Gophers Sidney Peters wins Hockey Humanitarian Award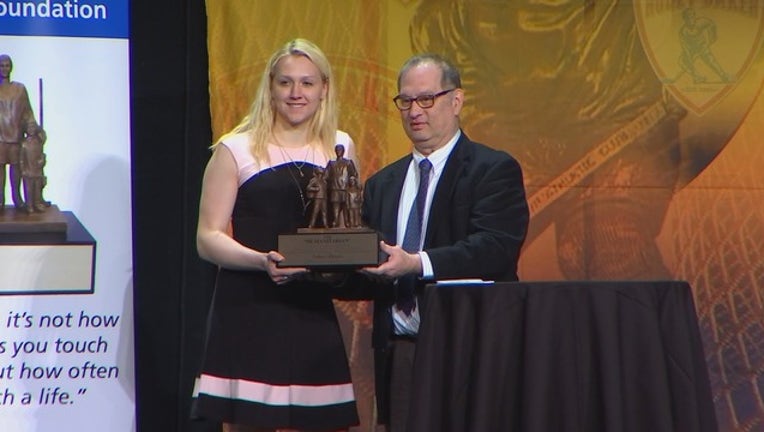 article
SAINT PAUL, Minn. (KMSP) - A University of Minnesota hockey player is being honored for her hard work off the ice.
Senior goaltender Sidney Peters received the 2018 Hockey Humanitarian Award Friday afternoon as part of the NCAA Men's Frozen Four festivities. The honor recognizes college hockey's "finest citizen," who contributes to their team and also their community.
"I really feel like I came away with a lot of lessons [from volunteering] and a new perspective on my career and just my life in general," said Peters. "It made a bad day at the rink feel like not such a bad day. It also helped me to realize that there are so many people out there that we can help and we're all capable of so much more than we do."
She beat out four other finalists to win the award. As a Gopher, Peters has spent more than 830 hours volunteering with various community outreach groups. She is also a certified EMT and has volunteered with the University of Minnesota EMS and the Rush-Copley Emergency Department in Aurora, Illinois near her hometown. In 2016, she went to Haiti with Project Medishare and spent eight days volunteering at the Hospital Bernard Mevs.
On the ice, Peters appeared in 82 games and recorded 53 wins, 16 shutouts and 1,465 total saves to rank fifth among all-time Gopher goalies. She has also been a part of two NCAA national championship teams.
Along with her award, Peters received $2,500 to donate to her designated charity, Project Medishare.