Gophers men's hockey earns No. 1 seed in NCAA tournament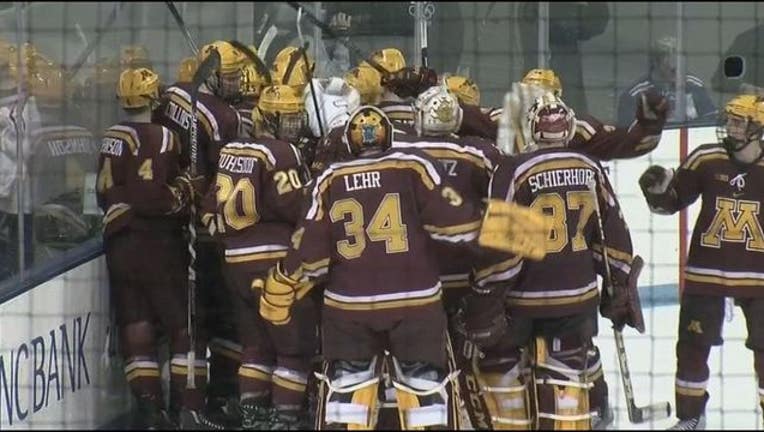 article
MINNEAPOLIS (KMSP) - The University of Minnesota men's hockey team may have missed out on the NCAA tournament last year, but they're heading into this year's as a No. 1 seed.
The Gophers lost to Penn State in double overtime in the semifinal round of the Big Ten tournament on Friday. But their record this season (23-11-3) was still enough to punch their ticket to the 16-team tournament. 
This is the 37th time in school history the Gophers have made it to the NCAA tournament – a new national record. The team is looking to win their first national championship in 14 years.
Minnesota will begin play in the Northeast Regional in Manchester, New Hampshire, facing No. 4 seed Notre Dame in the first round. The two schools have not played against each other this year, but the Gophers have played the Irish in each of the last four seasons.
Notre Dame is also Gophers head coach Don Lucia's alma mater.
The Gophers aren't the only University of Minnesota team to make the tournament. The University of Minnesota-Duluth also earned at No. 1 seed. The Bulldogs play Ohio State in the West Regional in Fargo, North Dakota on Friday. 
Minnesota vs. Notre Dame
Saturday, March 25
2:30 p.m. CT
UMD vs. Ohio State
Saturday, March 24
5:30 p.m. CT