'We found a way': Gophers ride Trey Potts to 31-26 win over Miami (Ohio)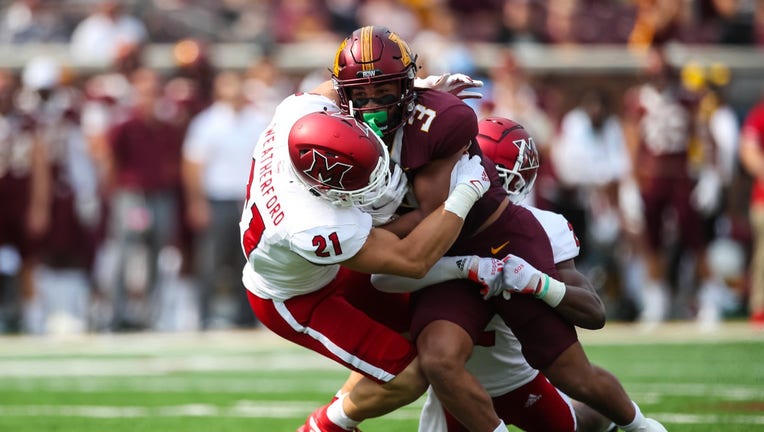 MINNEAPOLIS - It was more interesting than it probably had to be, but the University of Minnesota football team held off Miami (Ohio) 31-26 on Saturday in front of more than 43,000 fans at Huntington Bank Stadium for its first win of the season.
With Mo Ibrahim out for the season and Chris Autman-Bell unable to play for the second straight week, the Gophers rode Trey Potts in the run game. The redshirt sophomore had 34 carries for 178 yards and two touchdowns on Saturday. They needed it all, as the Redhawks rallied with 17 points in the second half and cut the lead to 21-20 with 12:32 left before Minnesota made enough plays to hang on for the win.
The Gophers entered the game 19-point favorites, but it was another uncomfortably close finish in a non-conference game. PJ Fleck said after he doesn't really care about the stats, it was about finding a way to win. It took a big kickoff return from Mar'Keise Irving, and a big field goal from Matthew Trickett to get there.
"I've never been mad after a win, and I'm never going to start being mad after a win. We won, that was the objective. Right now, I'm just proud of our team's resilience and the grit, the courage, they found a way. It was people who hadn't been put in that position before, they had to go find a way to end the game and they did. That's what I'm proud of," Fleck said.
With Ibrahim sporting a cast on his left leg and moving around on a scooter, Potts was the next man up. He was ready, scoring his first touchdown of the day after the Gophers recovered a fumble on Miami's opening possession.
Potts' second score of the day was the biggest. The Redhawks had just scored to cut the Minnesota lead to 21-20 in the fourth quarter, and Irving came up with a kick return to near midfield. With the Gophers' passing game struggling, it was on Potts to move the ball down the field.
He had five straight carries, including a 21-yard touchdown to give Minnesota a 28-20 lead with 9:53 to play. Potts also went for 11 yards on a 3rd-and-5 with under two minutes to play, and the Gophers ran the clock out. Minnesota finished the game with 13 straight rushing attempts, all by Potts.
"Gutsy. That's Trey Potts. You don't know how somebody is going to react when it's that type of situation and that type of game. Now Trey has shown what he can do," Fleck said.
"The time came and they believed in me, so if it took 34, it took 34. The O-line played great, I just took my opportunity and made a game of it," Potts said. "When your number is called, I gotta go out there and make a play. If that's what it took, that's what it took."
The Gophers were in control at the half, up 21-3 with Tanner Morgan 8-of-11 passing for 112 yards and scores to Dylan Wright and Daniel Jackson. But Morgan didn't complete a pass in the second half, and the Gophers' first three possessions of the third quarter ended in punts.
The Redhawks scored 17 straight points, then everything changed after Irving's kick return.
After Potts put the Gophers up 28-20, Tyler Nubin intercepted Brett Gabbert and returned it into Miami territory. The drive ended with Trickett hitting a 50-yard field goal, the longest of the Kent State transfer's career and the first Gopher to make a kick of that length since Emmitt Carpenter in 2018.
It gave Minnesota a 31-20 lead with 6:15 to play.
"The kid walks out there and is like this is ice, this one's going right through. Tricky is an elite kicker, whenever he walks on the field it's three points right there," Morgan said.
"It's just proof of all the work we put in on special teams. God's got me, trust my training, trust the guys around me and the guys up front," Trickett said.
The Gophers thought they had the game won, with Nubin getting a fourth down pass break-up. But Rashad Cheney was flagged for roughing the passer. On the next play, Gabbert hit Mac Hippenhammer for a 33-yard touchdown to get the Redhawks within 31-26 with 3:43 to play.
Again, Fleck turned to his run game to seal a win. Potts delivered with two first downs to run the clock out. The Gophers ran for 175 of their 287 total yards.
"I think it was really gritty. Our culture is all about how. How you do anything is how you do everything. I was proud of the grit that we showed," Morgan said.
Along with Nubin getting an interception and Justus Harris recovering a first quarter fumble, Mariano Sori-Marin led the Gophers with 10 tackles and Jack Gibbens added eight. MJ Anderson was the most disruptive player of the day along the defensive line with four quarterback hits.
The Gophers (1-1) will need more of that grit next weekend, hitting the road for a tougher non-conference test at Colorado.