Gophers coach P.J. Fleck on No. 2 Michigan: 'They're really, really good'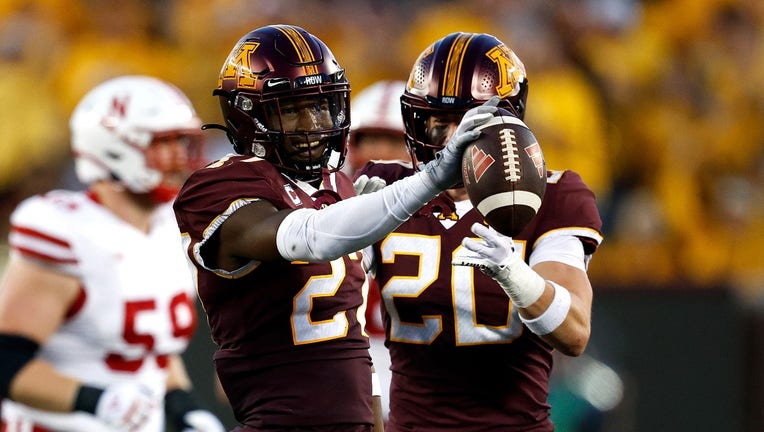 article
MINNEAPOLIS (FOX 9) - The University of Minnesota football team hosts Michigan Saturday night at Huntington Bank Stadium in the battle for the Little Brown Jug.
The Wolverines come in ranked No. 2 in the country, at 5-0 on the season, and routed Nebraska 45-7 in Lincoln last Saturday. Jim Harbaugh has led Michigan to two straight Big Ten titles, and consecutive College Football Playoff appearances. But is this year's version of the Wolverines his best?
Through five games, they've scored at least 30 points and haven't allowed more than seven.
"They're really good. When you watch their team, they all talk about the team, they all play for their team. Sometimes you can't tell who's in the game or who just made that play because not one guy is the star, they're all the stars," Gophers' coach P.J. Fleck said Monday. "He (Harbaugh) has done a great job of creating I think one of the best teams in the country. I think they're one of the best teams in the country, they're ranked exactly where they probably should be. They're as good as advertised."
Fleck has faced the Wolverines twice before, a 49-24 loss to open the 2020 season altered by COVID-19, and a 33-10 loss at Ann Arbor in his first season. The Gophers enter Saturday night's game 19.5-point underdogs.
But anything can happen in a rivalry game. In 2019, the Gophers shocked a top-five Penn State team to win the Governor's Trophy Bell. 
"You go back to 2019, played a top-four team in the country and not many people gave us a shot on that either," Fleck said. "I don't think we were favored in that one or the Auburn game, that's the same Auburn team that went out and beat Alabama. That's why you play the game."
Michigan comes in with the No. 39 scoring offense in the country at 34.4 points per game, led by J.J. McCarthy. He has 1,086 passing yards and 10 touchdowns in five games.
But it might be their defense that's most impressive. With seven starts back from last season, they're No. 4 nationally in total defense (245.8 yards per game), No. 13 in rushing defense (85.2 per game) and No. 17 in passing yards allowed (160.6 per game).
They lead the nation in scoring defense, allowing six points per game. That spells trouble for a Gophers' offense still finding its consistency and identity, despite having the nation's leading rusher going into last week. Darius Taylor missed last week with an injury, and Zach Evans stepped up in his absence with 85 yards and a touchdown against Louisiana.
So how can the Gophers move the ball against the Wolverines?
"You find a way to put 13 guys on the field when nobody is looking," Fleck joked. "They're really good."
The Gophers have to play their best game of the season, and probably get some help from Michigan, to keep the Little Brown Jug in Minnesota. It should be a sellout crowd on a national stage Saturday night at Huntington Bank Stadium.
"This is why you play the game, this is what college football is all about. Michigan has a heck of a ball club, maybe the best one since he's been there. I don't think that's a secret, they're really good. We're going to have to play really good to have a chance in the game, I don't think anybody deny that," Fleck said. "We're capable of playing really good football, we just haven't put it all together yet. This is what you want, this is what you dream of, now you've got to go play well. This team will steamroll you if you don't play well."