Gophers begin Dawn Plitzuweit era Wednesday night against Long Island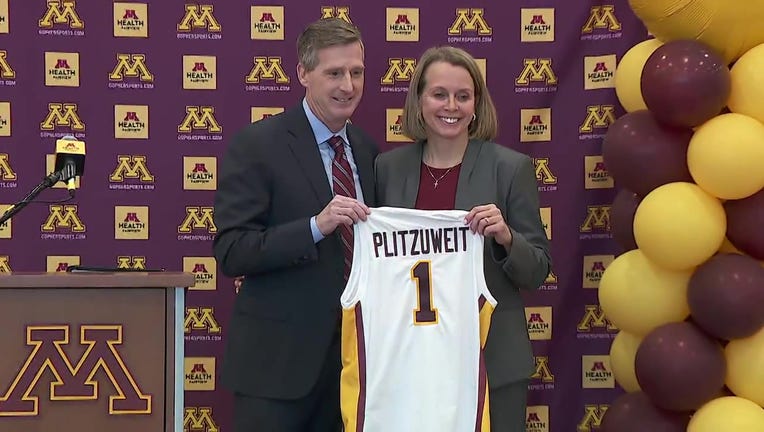 article
MINNEAPOLIS (FOX 9) - The University of Minnesota women's basketball team starts a new era Wednesday night when opens the 2023-24 season against Long Island University at Williams Arena.
It marks the official debut for coach Dawn Plitzuweit, who was hired in March to replace Lindsay Whalen after five seasons leading the Gophers. Plitzuweit brings 177 career head coaching wins between last season at West Virginia, and the previous six at South Dakota.
Plitzuweit has led teams to five straight NCAA Tournament appearances, and led the Mountaineers to 19 wins last year. The Gophers are excited to open the season, and play against somebody other than their scout team.
"It's going to be a lot of fun. This is a group of young ladies who really strives to play their tails off, they really get after it. I encourage everyone to come watch them play, I think they really a high-energy, fun bunch," Plitzuweit said Tuesday. "I'm really excited to see them in action, I think they're going to have a lot of fun tomorrow night."
So what does a team led by Plitzuweit look like? We won't really know until Wednesday night, but it's her hope the Gophers play hard, play fast, play with toughness but also play smart. She says playing under control will be the team's biggest challenge early on.
"I think there's an excitement level when you play against someone else for the first time and it's real, it's not one of those scrimmage-type scenarios. Getting our players to attack, but be in control," Plitzuweit said. "If I had to predict what would be the biggest challenge for us, that's probably going to be it because you're so excited and want to play really, really fast."
The Gophers will be led by a core of talented sophomores who all stayed after Whalen's departure. That includes last year's leading scorer, Mara Braun. Also in that mix are Mallory Heyer, Amaya Battle and Nia Holloway, who missed all of last season with a knee injury but is back healthy.
Battle is excited to play an opponent after an offseason of workouts, scrimmages and a foreign tour to Croatia and Greece.
"I'm honestly just most excited to just be out here playing with my teammates and being back in The Barn. I miss playing basketball, we played in Croatia and Greece in August, but besides that we haven't played much," Battle said. "Just getting back on the court against an opponent that's not our practice players. We need an environment with our fans."
Plitzuweit's numbers don't lie. She won Summit League Coach of the Year three times at South Dakota, won three Summit League regular season and conference tournament titles and led the Coyotes to a Sweet 16 in 2022. In 16 seasons as a head coach, she's had a winning record 15 times and had nine 20-win seasons.
She was also a national champion with Division II Grand Valley State in 2006.
Whalen had one 20-win season at Minnesota, and the Gophers didn't finish better than 10th in the Big Ten in her last four seasons. So how do the Gophers get back to winning? Plitzuweit said for this team, it comes down to toughness.
"Toughness for us is that defensive side of things, it's also doing little things well, taking care of the ball. Can we play with great toughness on every possession? Can we out-tough our opponents in a lot of ways? That's really what we're looking for," Plitzuweit said.
The Gophers will carry confidence into their opener after beating South Dakota State, an NCAA round of 32 team last year, in a recent scrimmage.
Minnesota faces Long Island, Chicago State and North Dakota State before a Nov. 19 date with Paige Bueckers and UConn at Williams Arena.