Gophers: After beating Iowa, the path to a Big Ten West title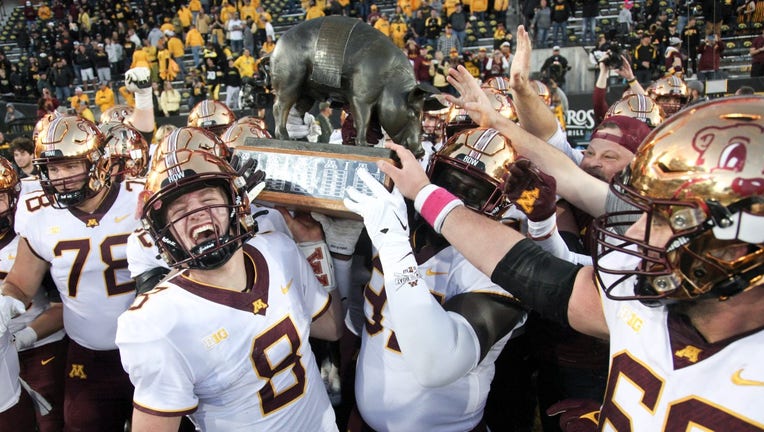 article
MINNEAPOLIS (FOX 9) - The University of Minnesota football team ended a pair of droughts with Saturday's 12-10 win over rival Iowa at Kinnick Stadium.
We know the numbers by now. It's the Gophers' first win over the Hawkeyes since 2014. It's the first win in Iowa City since 1999. For the first time since 1993, both Floyd of Rosedale and Paul Bunyan's Axe are next to each other in the trophy cases at Minnesota's football facility.
Now, the Gophers must wipe the slate and avoid what some would consider an inevitable emotional letdown against Michigan State. By beating Iowa, the Gophers improved to 4-3 overall and 2-2 in the Big Ten. They now have wins over Nebraska and Iowa, and losses at Northwestern and to Michigan. 
Minnesota also put itself back in contention in the Big Ten West. Yes, it's true, the Gophers still have a chance to play for a Big Ten title in Indianapolis. That said, there is still a lot of football to be played as the Gophers still have five games left, three in the West Division.
Here's a look at Minnesota's remaining schedule:
Hosting Michigan State this Saturday
Hosting Illinois Nov. 4
At Purdue Nov. 11
At Ohio State Nov. 18
Hosting Wisconsin Nov. 25
What do the Gophers need to do to give themselves a chance? Assuming they lose at Ohio State, who will inevitably play Michigan for the Big Ten East title, Minnesota needs to win its other remaining games. They need to beat the Spartans, Fighting Illini, Boilermakers and Badgers to finish 8-4, 5-3 in the Big Ten. Here's what else needs to happen:
Wisconsin currently leads the Big Ten West at 3-1. The Badgers remaining games are Ohio State, Indiana, Northwestern Nebraska and Minnesota. The most plausible scenario is a loss to the Buckeyes and Gophers, and Minnesota would have the tiebreaker.
Iowa is currently second in the West at 3-2. The Gophers need the Hawkeyes to lose one of their four remaining games against Northwestern, Rutgers, Illinois and Nebraska. Despite a strong defensive, their offensive struggles leave them capable of losing any of those four games. Minnesota and Iowa would each need a 5-3 division finish for the Gophers to have the tiebreaker.
The Gophers and Nebraska are each 2-2 in the West, but Minnesota has that head-to-head tiebreaker with their season-opening win. The Cornhuskers have to win their final five games against Purdue, Michigan State, Maryland Wisconsin and Iowa.
Northwestern has to win its final five games against Maryland, Iowa, Wisconsin, Purdue and Illinois.
P.J. Fleck typically has one game per season that stands out as the back-breaker for the division. This year, it's most likely the loss at Northwestern with a 21-point fourth quarter lead.
To sum it all up, the Gophers must win out other than Ohio State, have Wisconsin lose to the Buckeyes and have Iowa lose one of its last four games. It gets a little muddy, but there is at least a path, for now. The reward for a West Division title is likely a date with the Michigan/Ohio State winner in Indianapolis.
The Gophers already lost to the Wolverines this year, 52-10. Remember, divisions are likely going away with Oregon, Washington, USC and UCLA coming to the conference next year.