Golden State Warriors beat Cleveland Cavaliers 108-85 in Game 4 for third NBA title in four years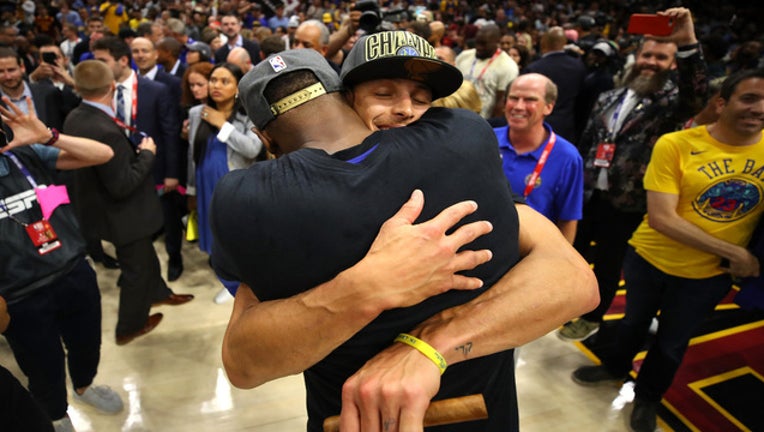 article
CLEVELAND (AP) - Golden State. Golden still.   Stephen Curry scored 37 points, Kevin Durant added 20 and a triple-double and the Warriors stamped themselves a dynasty after winning their second straight NBA title and third in four years Friday night, 108-85 over the Cleveland Cavaliers to complete a sweep and perhaps drive LeBron James from his home again to chase championships.
Overcoming obstacles all season long, the Warriors were not going to be denied and won the fourth straight finals matchup against Cleveland with ease.
It was the first sweep in the NBA Finals since 2007, when James was dismissed by a powerful San Antonio team in his first one. His eighth straight appearance didn't go well either, and now there's uncertainty where the superstar will play next.
James finished with 23 points and spent the final minutes on the bench, contemplating what went wrong and maybe his next move.
Act IV between the Warriors and Cavs featured a drama-filled and controversial Game 1. But from there on, Durant, Curry, Klay Thompson, Draymond Green and the rest of this California crew showed why they're the game's gold standard.
And they may stay that way.
Not wanting to give the Cavs or their fans any hope despite the fact that no team has ever overcome a 3-0 deficit in the NBA playoffs, the Warriors built a nine-point halftime lead when Curry ignored a closeout by James and dropped a 3-pointer.
Then the league's best team tightened the screws on Cleveland in the third quarter, outscoring the Cavs 25-13 and prompting Golden State fans to begin those drawn-out "War-eee-orrss" chants that provide a perfect musical accompaniment to their 3-point barrages.
By the start of the fourth quarter, the only question was whether Curry would win his first NBA Finals MVP or if it would go to Durant for the second year in a row.
After surviving a rougher-than-usual regular season and beating top-seeded Houston in Game 7 on the road in the Western Conference finals, the Warriors withstood an overtime scare in Game 1 and joined an elite group of teams to win multiple championships in a four-year span.
Only Bill Russell's Boston Celtics, the "Showtime" Lakers and the Los Angeles squad led by Kobe and Shaq, and Michael Jordan's Chicago Bulls have been as dominant in such a short period of time.
 
The Dub Dynasty.