Fleck names freshman walk-on Annexstad as starting Gophers quarterback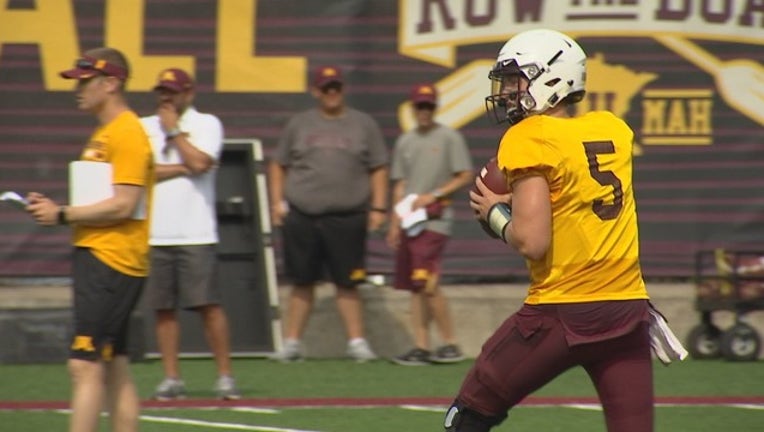 MINNEAPOLIS (KMSP) - The Minnesota Gophers quarterback battle is over.
Head Coach P.J. Fleck announced in a press conference Monday morning walk-on true freshman Zack Annexstad will be the team's starter. Annexstad beat out fellow freshman Tanner Morgan for the starting job.
"It was the hardest decision I've had to make as a head football coach," said Fleck. "Both tremendous individuals, tremendous leaders, great quarterbacks."
Annexstad, originally from Norseland, Minn., played at IMG Academy in Florida, where he led the team to an undefeated season in his senior year. He enrolled at the University of Minnesota in January. He is believed to be the second walk-on true freshman to start a season opener, behind Baker Mayfield who started at Texas Tech in 2013.
Fleck says Annexstad and Morgan each showed strong leadership qualities, but Annexstad had the edge on "some key statistics." Fleck says it's all about creating the chances for growth and failure.
"This is not going to be a short leash for somebody," said Fleck. "At some point, we've got to sit there and be able to say ok, let's give this guy a lot of opportunities to continue to fail, grow, have success, mature just like everybody."
Fleck says while Annexstad may be a walk-on on paper, he was never viewed that way in the coaches' minds.
"We just had to convince him that he had to be here and had an equal opportunity to compete and that's what he did," said Fleck. "All he's done is find his way bottom of the depth chart and work his way to the top – that's what he does."
During the training camp, Fleck says Annexstad and Morgan worked closely together, helping each other with the system. While Annexstad may be first on the depth chart, Fleck says it doesn't mean Morgan won't ever be on the field.
"If you can ever work that in as a head coach – absolutely, I'd like to [put Morgan in], but I did make it very clear to both of them that I do want to make sure that they're going to have opportunities to fail." 
With so much youth on all sides of the ball, Fleck says he expects the team as a whole to continue to grow throughout the season.
"It's exciting for me because I know they're young, I know they're talented across the board, it's just like I said, it's why I consider it Year One," he said. "They're so many young players on that field that haven't played before, but that's fun. That's fun as a coach, that's why you coach because you get to coach so much more."
The Gophers start their season against New Mexico State on Thursday, Aug. 30 at 6 p.m. at TCF Bank Stadium.