DeLaSalle, North basketball champs get letters from LeBron James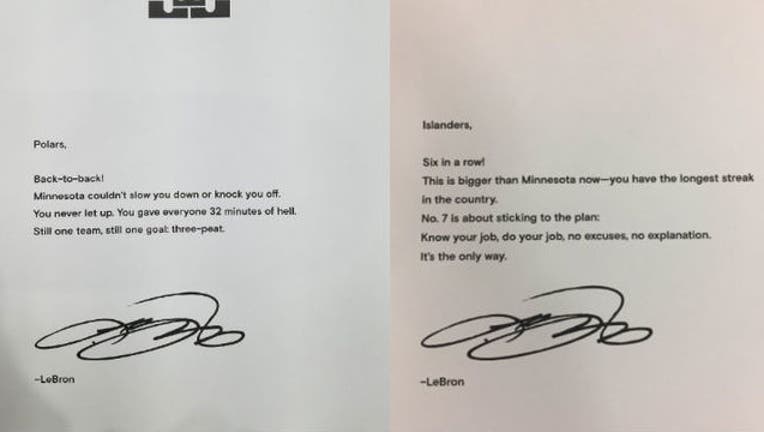 article
MINNEAPOLIS (KMSP) - A pair of championship-winning high school basketball teams from Minneapolis have grabbed the attention of NBA superstar LeBron James. DeLaSalle just won its sixth consecutive Class 3A title and Minneapolis North won its second straight Class A title.
LeBron sent a signed, personal letter to each team, and DeLaSalle shared its video message from King James on Twitter.
"Y'all did it again, and no doubt that the state knows who's the best," James said in his video. "At every point in this season you guys took everybody's best punches and you guys kept fighting, just kept striving for greatness, just kept putting yourselves in position to be a champion. This is why you guys are at this point today. Because you guys never crumbled, you never cracked. You might bend a little, but you always stay stable, you always had the next man's back. And that means so much, because we all know throughout a long season that there's going to be adversity. There's going to be things that make you question yourself or question your teammate, but at the end of the day, sticking together is what it's all about. I'm just so proud of you guys and I wish I was there to actually see it, because I know you guys had a heck of a time, a heck of a run. There's one thing nobody will be able to ever take from you, and that's knowing that you guys are champions. Respect, and salute."
LeBron's letter to DeLaSalle
Islanders,
Six in a row! This is bigger than Minnesota now – you have the longest streak in the country. No. 7 is about sticking to the plan: Know your job, do your job, no excuses, no explanation. It's the only way.
- LeBron
Thank you to @KingJames for your continued support of the Islanders! #StriveForGreatness pic.twitter.com/ZKHTXpz9dr
— DeLaSalle Basketball (@IslanderUpdates) April 27, 2017
LeBron's letter to North
Polars,
Back-to-back! Minnesota couldn't slow you down or knock you off. You never let up. You gave everyone 32 minutes of hell. Still one team, still one goal: three-peat.
- LeBron
New challenges
Both teams are facing in a challenge in their quest to repeat next season. Minneapolis North will move up to Class 2A next season, and DeLaSalle head coach Dave Thorson left the school to join the coaching staff at Drake University in Iowa.