After 2-0 start, Gophers host No. 7 Texas in 'Maroon Out' Tuesday night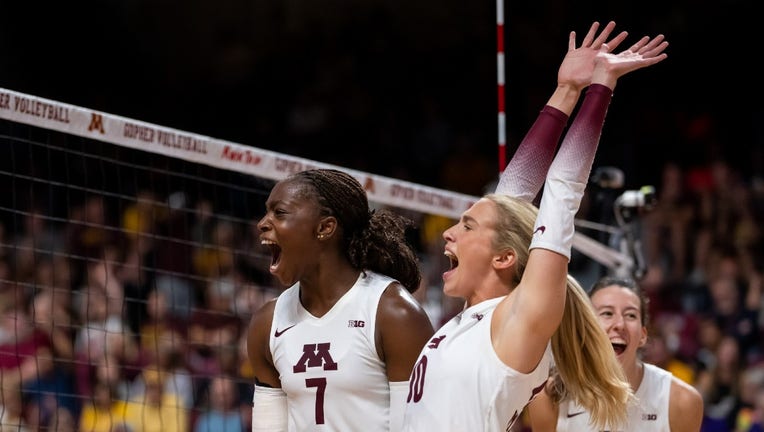 article
MINNEAPOLIS (FOX 9) - All things considered, Keegan Cook couldn't have asked for a much better weekend for his debut with the University of Minnesota volleyball team.
After dropping their first set in the season-opener last Friday night to Texas Christian University (TCU), the Gophers won the next three to beat the Horned Frogs 20-25, 25-16, 25-15 and 25-23. The Gophers got off to a much faster start Saturday night against No. 15-ranked Baylor in a 3-0 sweep, winning 25-20, 25-21 and 25-11.
Cook said in a quick turnaround time, the Gophers fixed several mistakes and cleaned up some communication errors to earn a 2-0 start.
"They're still learners and they're bought in and they're listening. It's not for a lack of wanting to be great. To make as many changes as they made in between two matches really impressed me," Cook said.
Minnesota, ranked No. 5 in the country, gets a bigger challenge Tuesday night. No. 7-ranked University of Texas comes to Maturi Pavilion as the Gophers a hosting a "Maroon Out." A sellout crowd is expected, and Minnesota fans should wear maroon. It'll serve as a dress rehearsal for a "Gold Out" when the Gophers' football team hosts Nebraska Thursday night at Huntington Bank Stadium.
The Longhorns, who went 28-1 and won last year's NCAA title, will be ready. They opened the season with an upset 3-1 loss to unranked Long Beach State. Cook got his first taste of the Maturi Pavilion atmosphere last weekend, and that will only be amplified against Texas, one of the top teams in the country.
"Great opponent, great crowd, great team. You wait a lot of years for those opportunities and you play a lot of matches in interesting locations where it doesn't have that environment. Tomorrow is one where the game gives back a little bit and you're showing up in a place where you want to be against someone you want to be playing against in December," Cook said. "You don't want to miss those opportunities."
KYLIE MURR EARNS BIG TEN WEEKLY HONOR
Ohio State transfer Kylie Murr had quite the opening weekend with the Gophers to earn Big Ten Defensive Player of the Week honors. She had 40 digs and 15 set assists as Minnesota opened and got off to a 2-0 start with a 3-1 win over TCU, and 3-0 win over Baylor.
Murr is the reigning Big Ten Defensive Player of the Year. She has 1,975 career digs and could get to 2,000 this week.