Wyoming angler reels in 2 record-breaking fish in 2-week span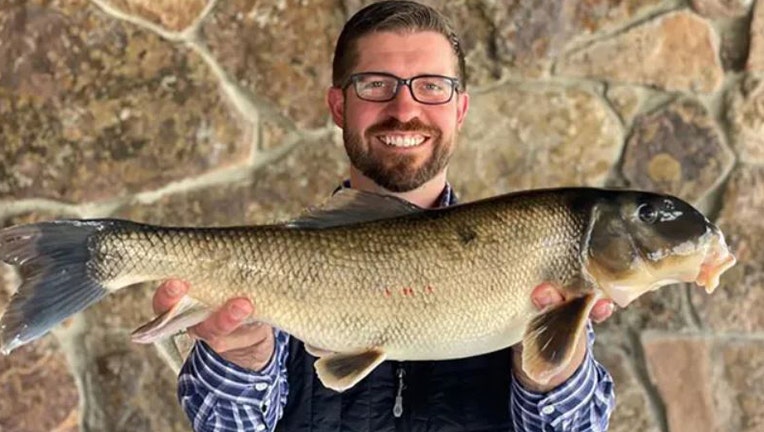 article
RIVERTON, Wyo. - A Wyoming angler who prides himself in going after big fish has two new reasons to celebrate.
Patrick Edwards, of Riverton, now holds two new state records, all in a two-week span earlier this year.
"Catching a state-record fish of any species is quite an accomplishment, but to break two state records is incredible," said Alan Osterland, Wyoming Game and Fish chief of fisheries.
On April 2, Edwards broke the state record for longnose sucker when he caught a 3-pound, 15.6-ounce fish. The old record of 2 pounds, 11.3 ounces was set last year. 
He told game wardens that he didn't know right away of his record catch because he wasn't sure what he actually snagged. All he knew was it wasn't a white sucker. 
After taking some pictures of the fish, Edwards sent them to some people he knew who confirmed it was a longnose sucker – and a big one. 
SEE THE MASSIVE WORLD-RECORD FISH CAUGHT BY NORTH CAROLINA ANGLER
Wildlife officials said Edwards' catch marked the third consecutive year the longnose sucker record was broken.
Yet, the angler's title holdings didn't end there. Two weeks later on April 17, he broke his own state record for white sucker with a 6-pound, 8.45-ounce fish. Edwards' old record from March 2020 was 5 pounds, 6.45 ounces.
"Living in Wyoming my whole life and being an avid angler, I never thought I would have one state record – let alone two," he said.
Edwards said he was using a pickerel rig for both fish, which consists of a slip sinker, hook, another section of line and another hook. His bait was pieces of worm.
The Wyoming Game and Fish Department said Edwards' white sucker record may also tie a world record. If confirmed, it would only be the second world-record fish Wyoming boasts under its belt and something the state has not seen since 1948.
Wildlife officials said both record fish were caught along the same stretch of the Wind River.