Women's History Month 2023 celebrates 'women who tell our stories'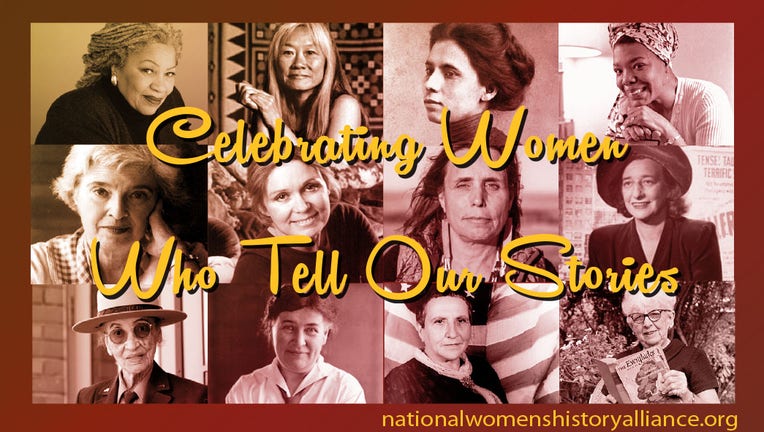 article
Women's History Month, a time to celebrate the vital role of women in American history and culture, is throughout the month of March. 
The theme of this year's month-long observance is "Celebrating Women Who Tell Our Stories," according to the National Women's History Alliance, a nonprofit that spearheaded the movement for March to be Women's History Month in the United States.
Throughout the month, the group said it will "encourage recognition of women, past and present, who have been active in all forms of media and storytelling including print, radio, TV, stage, screen, blogs, podcasts, and more."
RELATED: Smithsonian debuts 120 statues for Women's History Month
"From the earliest storytellers through pioneering journalists, our experiences have been captured by a wide variety of artists and teachers. These include authors, songwriters, scholars, playwrights, performers, and grandmothers throughout time," the National Women's History Alliance said in a statement. 
"Women have long been instrumental in passing on our heritage in word and in print to communicate the lessons of those who came before us," the statement added. "Women's stories, and the larger human story, expand our understanding and strengthen our connections with each other."
Women's History Month coincides with International Women's Day on March 8, which was first observed in 1909. 
However, it wasn't until 1981 that Congress established a National Women's History Week to be commemorated annually during the second week of March in the U.S. 
Word spread and within a few years, thousands of schools and communities across the country were celebrating National Women's History Week, thanks to resolutions from governors, city councils, and school boards, according to the National Women's History Alliance.
By 1986, 14 states had already declared March as Women's History Month, according to the nonprofit. The National Women's History Alliance used this momentum to lobby Congress to declare the entire month of March 1987 as National Women's History Month. 
That year, Congress expanded the week to a month for good. In the years since, a special Presidential Proclamation is issued to honor the achievements of American women.
In the 2023 Women's History Month logo, several notable women are featured, including novelists Toni Morrison, Maxine Hong Kingston, and Gertrude Stein, journalists and activists Jovita Idar and Marjory Stoneman Douglas, poet Maya Angelou, historian and author Gerda Lerner, and longtime National Park Service ranger Betty Soskin.
Women's History Month: Caregivers, frontline workers focus of 2022 theme
This story was reported from Cincinnati.