Woman praises Target cashier for his kindness and patience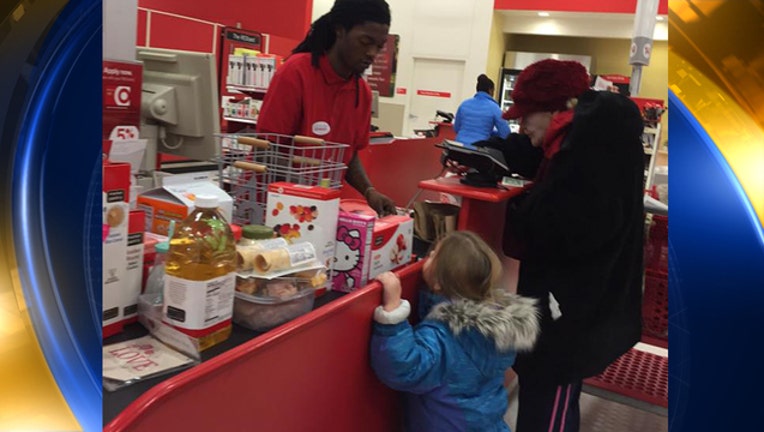 article
(WJBK) - Patience is a virtue, and a woman's recent shopping trip is going viral because of it.
Sarah Owen Bigler wrote on Facebook that she was hoping for a quick trip to Target with her two young kids, but that things didn't go her way. After she unloaded her items to check out, she looked up and realized an elderly woman in front of her was paying for her items one at a time - and with the change in her purse.
"Part of me, the part that had a long day at work, the part of me who had a 1 1/2 year old having a melt down in the cart, the part that had set an unnecessary timeline for Target and getting home, was frustrated with this woman and the inconvenience she had placed on me," Sarah wrote.
But then Sarah says she couldn't help but notice how the cashier, Ishmael, was handling the situation. She says Ishmael helped the woman count her change, called her "ma'am" several times and even ran to get her a reusable bag when she asked if she had enough money leftover to purchase one.
"Never once did this employee huff, gruff or roll his eyes. He was nothing but patient and kind," Sarah said.
Sarah snapped a photo of the moment, which also captured her daughter, Eloise, attentively watching Ishmael and the woman.
"I realized I hadn't been inconvenienced at all. That my daughter was instead witnessing kindness and patience and being taught this valuable lesson by a complete stranger; furthermore, I realized that I too needed a refresher on this lesson," she said.
Sarah adds that she even tracked down the manager about the cashier.
"If you are ever in the Glendale Target, give Ishmael a smile and a nod. The world could use more people like him," she ended. Her Facebook page says that she lives in Indiana.
Since the posting, Sarah's photo with her story has been shared on Facebook thousands of times. Click here to read the whole thing if you cannot see the post above.