'Winnie the Pooh: Blood and Honey' director says he's received death threats over horror film
"Winnie the Pooh: Blood and Honey," a new film in which Pooh and Piglet go on a murderous rampage, is apparently angering some fans of the childhood classic. 
The film, released this week in U.S. theaters, follows the classic characters Pooh and Piglet through the Hundred Acre Wood. But food has become scarce after the friends were abandoned by Christopher Robin, who went to college, and things have gone seriously wrong.
Once Christopher returns, he finds his friends have become feral and unhinged.
Rhys Frake-Waterfield, writer, producer, and director of the film, recently told the Agence France-Presse (AFP) that while he believes the film will do well at the box office — it's also irked some people and even prompted death threats.
"Look, this is mental," Frake-Waterfield, 31, told the news outlet. "I've had petitions to stop it. I've had death threats. I've had people saying they called the police."
Disney still owns the rights to the cartoon versions of "Winnie the Pooh," but the original A.A. Milne books entered the public domain in early 2022. Once a work enters the public domain it can legally be shared, performed, reused, repurposed, or sampled without permission or cost.
WATCH FREE ON TUBI: Revisit A.A. Milne's classic stories with "Fireside Reading of Winnie-the-Pooh" 
This means the filmmakers of the new horror movie can include elements from the original books, leaving out any new elements from Disney. Frake-Waterfield previously told FOX Television Stations that the team hoped the film would give audiences a re-imagined and proper scare that is nowhere along the lines of the generic werewolf, zombie, or ghost flick storyline.
"I went with Winnie because it's so bizarre and has so much potential to be creative and include some fun horror moments," Frake-Waterfield said.
The first images of "Blood and Honey," featuring a creepy-looking Pooh and Piglet hovering behind an unsuspecting victim in a hot tub, quickly went viral last year. A trailer for the film was released in August, showing a group of five women on a cabin trip who cross paths with the sadistic duo, and all hell breaks loose.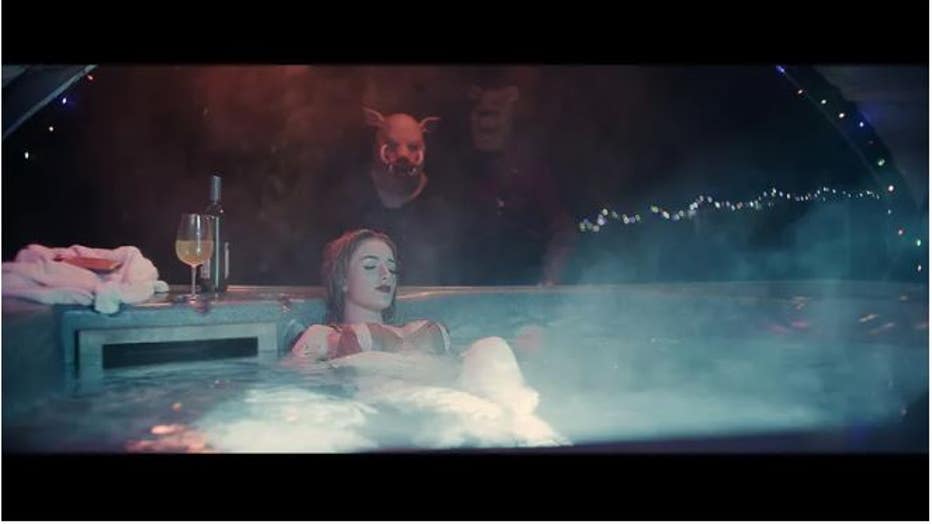 Freeze frame from "Blood and Honey" featuring Pooh and Piglet and an unsuspecting victim. (Jagged Edge Productions and ITN Studios)
The nearly two-minute video ends with the two creatures seemingly pouring two liquids — likely blood and honey — into a tank.
"Winnie the Pooh: Blood and Honey" was made on a budget of less than $250,000, according to the AFP. It already debuted in Mexico, where the film made nearly $1 million in two weeks, the outlet reported — noting how some industry analysts have predicted it to become one of the most profitable films of all time.
Frake-Waterfield said he originally hoped the film "might do a mini theatrical run in certain areas." But now he believes it could achieve the highest "budget-to-box office ratio" since "Paranormal Activity," a $15,000 film in 2007 that launched a nearly $1 billion franchise. 
"I really believed in the idea," Frake-Waterfield told the AFP. "Other people didn't... and now it's doing all right."
This story was reported from Cincinnati.