When will Harriet Tubman finally be on the $20 bill?
LOS ANGELES - America has waited years to see Harriet Tubman, famous for her efforts spiriting slaves to freedom on the Underground Railroad, on the $20 bill. But the wait continues.
Back during the Obama administration, a concept design was promised to be unveiled in 2020 to coincide with the centennial of the 19th Amendment, which gave women the right to vote.
Obama administration Treasury Secretary Jack Lew had selected Tubman to replace Andrew Jackson, the nation's seventh president, on the $20 bill.
But Tubman's fate had been in doubt since the 2016 presidential campaign, based on critical comments by then-candidate Donald Trump, who branded the move "pure political correctness."
Trump administration Treasury Secretary Steven Mnuchin did not move forward with the decision by the Obama administration. Instead, Mnuchin in 2019 announced a delay in redesigning the $20 bill in order to redesign the $10 and $50 bills first to improve security features to thwart counterfeiters.
Now, with a new administration in the White House, it looks like Harriet Tubman will appear on the $20 bill in 2030. 
Speaking with the Washington Post in March 2022, U.S. Treasury Secretary Janet Yellen said "I know it's a long way off. It adheres to the original schedule that was announced in 2014 by Secretary Lew and President Obama."
"I'm looking forward to seeing Harriet on the 20 in 2030," Yellen added. 
Why replacing Andrew Jackson with Harriet Tubman is a deeply symbolic move
In 2016, Becky Hobbs, an American country singer and Cherokee Nation citizen, told the Associated Press her and her elders have always despised Andrew Jackson. 

For Hobbs and many other Native Americans, the U.S. Treasury's decision to replace Jackson's portrait with Harriet Tubman's is a hugely meaningful change.

A slave-owning president who forced Cherokees and many other Indian nations on deadly marches out of their southern homelands, being succeeded by an African-American abolitionist who risked her life to free others? Unprecedented.

"We're just thrilled that Andrew Jackson has had a removal of his own," said Hobbs. "The constant reminder of Andrew Jackson being glorified is sad and sickening to our people.

Many Americans still celebrate Jackson for his victory over the British during the War of 1812. Gen. Jackson then orchestrated the invasion of Florida in 1818, and convinced the Spanish government a year later to give up the territory. Along the way, he warred against Native Americans — although some were his allies for brief periods — and his 1830 Indian Removal Act expanded U.S. territory at a critical time.

"Every time you pick up that $20 bill, it's a reminder that we can't ignore or pretend like we didn't have 400 years of slavery," said Amrita Myers, a historian at Indiana University who focuses on 19th century Black women.

Compared to all his predecessors, Jackson, who served from 1828-1836, arrived at the White House as a self-made everyman whose populist message resonated with a country still solidifying its democracy a half-century after declaring independence. But for Native Americans, Jackson stands for genocide — the polar opposite of a unifying figure.

"He's not the poster boy for America, and it's good to see it changed," said Bill John Baker, principal chief of the Cherokee Nation.
Why Harriet Tubman?
Today, Harriet Tubman is known as an American hero of liberty and freedom. 
Her life is celebrated across America such as the Harriet Tubman National Historical Park in New York, the Harriet Tubman Underground Railroad Visitor Center in Maryland, and the Harriet Tubman Underground Railroad Byway, a self-guided driving tour with 36 sites and a route of 125 miles.
Her accomplishments have been entombed in school history books with her life being so much more than a symbol of resistance against the brutal injustices of America's dehumanizing enslavement of Black Americans.
Tubman, who did not read or write, escaped from slavery in antebellum Maryland to become a leading abolitionist. She helped scores of other slaves escape the South by guiding them north on the Underground Railroad, an informal network that helped escaping slaves evade capture and reach free states.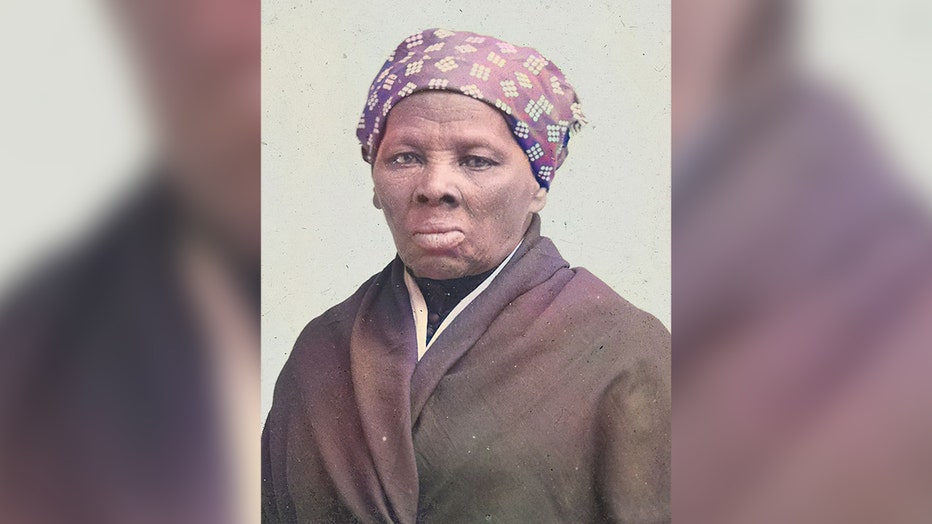 Portrait of activist and abolitionist Harriet Tubman, half length, 1895. Note: Image has been digitally colorized using a modern process.
Originally born Araminta Ross, Tubman was born into slavery around 1820 on the eastern shore of Maryland on a plantation in Dorchester County. 
Tubman's first known act of defiance against slavery: The icon for freedom refused a brutal slave owner's orders to help him detain another slave near the Bucktown Village Store in Maryland. When the other slave ran, the owner grabbed a 2-pound weight and threw it at him, hitting Tubman on the head and causing an injury that would trouble her for the rest of her life.
In 1849, she fled to Philadelphia, after which a reward for her recapture was posted. But Tubman returned to the South to lead other slaves to freedom, conducting more than 70 people through the Underground Railroad network of abolitionists.
According to the National Park Service in an article about Tubman: "During public and private meetings during 1858 and 1859, Tubman repeatedly told people that she had rescued 50 to 60 people in eight or nine trips. This was before her very last mission, in December 1860, when she brought away seven people."
Her missions would go so far north that she would lead slaves across the suspension bridge of the Niagara River to freedom in Canada.
She worked as a scout, spy and nurse for the Union Army during the Civil War. Historians say she was the only woman in the Civil War to help plan and lead a military operation.
Tubman came to the South Carolina city of Beaufort in 1862 to help the thousands of slaves freed when the Union occupied the city. The next year, she helped lead 150 Black soldiers on a gunboat raid in South Carolina up the Combahee River. With Col. James Montgomery, she rescued more than 700 slaves.
Tubman also became a noted suffragette before her death. She died on March 10, 1913, at a home for the elderly she founded in Auburn, N.Y.
The Associated Press and FOX News contributed to this story.