Washington County K9, handler takes top spot at national competition
WASHINGTON COUNTY, Minn. (FOX 9) - A Washington County Sheriff's Office K9 team came out on top at the 2023 U.S. Police K9 Association national field trials after bringing home two first-place titles.
Four WCSO handlers and their four-legged partners traveled to Foley, Alabama, to compete against more than 80 law enforcement teams in the national field trial to determine who's the top dog.
After the multi-day competition, Deputy Brandon Yetter and his 7-year-old Belgian Malinois Huck came out on top as the best team, taking the national champion title with a 99.4% competition score. 
"Makes it nice when I have a dog like Huck who is very driven, very food driven. Praise driven. Toy driven. Good genetics in the dog," Yetter said about Huck. 
These K9s are trained in narcotics, finding evidence, tracking, apprehension and more. But to Yetter's credit, the training never stops. It is a lot of work. 
"Literally I spend all my waking moments at home and at work with him so the bond, you become one cohesive unit it's pretty cool," Yetter told FOX 9.
In addition to the overall title, the duo won first place in apprehension and obedience control and second place in three categories: obedience, apprehension, and combined suspect search and evidence recovery. 
The other handlers, Deputy Thienes and K9 Goose, ranked sixth overall and earned fifth place in apprehension. While Deputy Liebenow and K9 Viking placed 18th overall and 4th in apprehension. Deputy Chris Majeski and K9 Jake also traveled to compete in the trials. 
The Washington County Sheriff's Office K9 unit is led by Sergeant Ty Jacobson and consists of nine deputies and their partners.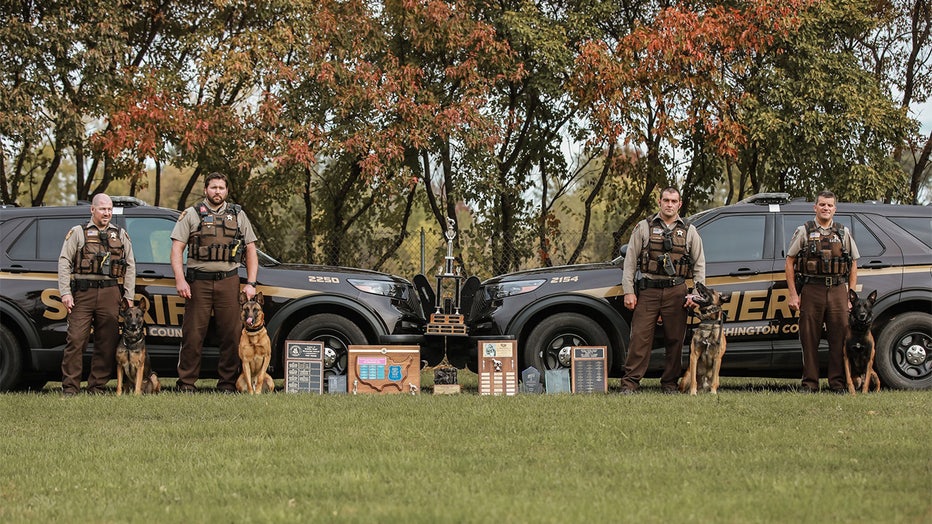 Pictured is the four K9 teams and their achievements from the U.S. Police K9 Association national field trials (Credit Washington County Sheriff's Office)