Health officials across Minnesota unbox first shipments of COVID-19 vaccine
MINNEAPOLIS (FOX 9) - The first shipment of the COVID-19 vaccine has arrived in Minnesota. 
Gov. Tim Walz was on hand at the Minneapolis VA hospital Monday morning to personally oversee the delivery of the first nearly 3,000 doses of the vaccine. 
The first shots will go into the arms of health care workers and long-term care residents within the next 24-48 hours, Walz told FOX 9. 
Walz said workers checked tracking technology to make sure the vaccines were transported at the required temperature, and they were. 
"I wanted to watch," the governor said. "The vaccine is safe."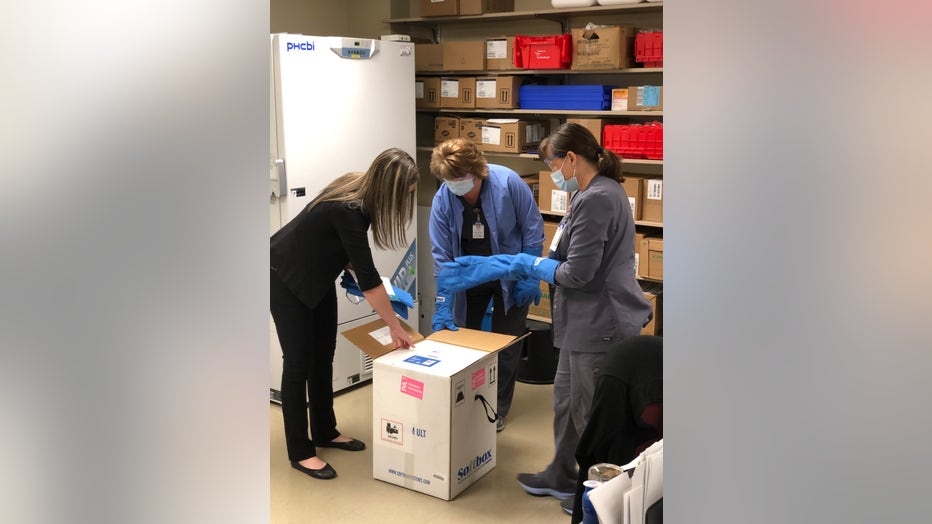 Health officials unbox the COVID-19 vaccine in Bemidji, Minn. Monday. (Sanford Health)
Across the state, Minnesota health care workers cheered the arrival of the first vaccine doses at their hospitals. 
Video showed Olmsted County employees unboxing the vaccine and photos released by Sanford Health in Bemidji and Cass Lake Indian Health Service showed their staff opening their shipment, too.