Virginia airport TSA checkpoint X-ray machine accidentally scans traveler's pet: 'cat-astrophic mistake'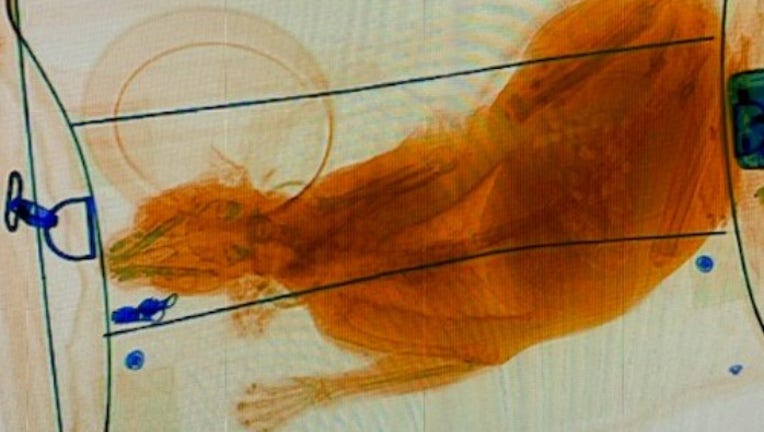 article
Norfolk, Virginia, Transportation Security Administration, or TSA, agents were in for a surprise last week after a passenger put their pet cat through the checkpoint X-ray machine.
TSA spokesperson Lisa Farbstein posted about the incident on Twitter on Friday.
"Just when you thought it was safe to bring your pet on a trip…A traveler left their pet in its travel carrying case at a @TSA checkpoint this morning at @NorfolkAirport," Farbstein tweeted. "Attention pet owners: Please do not send your pet through the X-ray unit. Cat-astrophic mistake!"
TSA SAYS PASSENGER ATTEMPTED TO BRING 'EMOTIONAL SUPPORT' BOA CONSTRICTOR SNAKE THROUGH SECURITY
A follower saw the spokesperson's tweet and asked if the cat is OK, to which Farbstein replied, "Yep."
Both the traveler and the cat were required to go through the TSA screening the proper way after the TSA agents saw the X-ray image.
Farbstein said the proper way to go through security is by removing the cat from the travel bag.
TSA FINDS UNDECLARED 84 MM CALIBER WEAPON IN CHECKED LUGGAGE AT TEXAS AIRPORT
She also tweeted a video posted to Instagram by the TSA about the proper way to travel with a pet through the TSA checkpoint, adding that travelers with cats can request it be screened in a private room, just in case the owner has an escape artist in their hands.
The Instagram video starts out with an image of the cat's X-ray with the words, "Don't do this," underneath.
CLICK HERE TO GET THE FOX NEWS APP
It then shows a man remove his dog from a pet carrier and walk through the TSA checkpoint.
Read more of this story from FOX News.