Pence headed back to Minnesota on Monday as Trump refocuses on state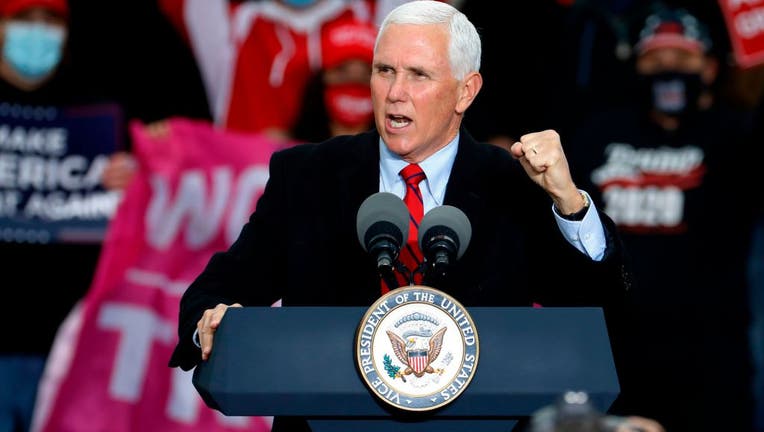 (FOX 9) - Vice President Mike Pence will campaign in Hibbing on Monday afternoon as the Trump campaign refocuses on Minnesota right before Election Day.
The campaign stop will be an airport rally scheduled for 1 p.m., the campaign said in a news release.
Campaign manager Bill Stepien first announced the travel during a Friday morning telephone call with reporters, during which he also said the campaign would return to the Minnesota TV airwaves next week with a "heavy" ad buy.
"You won't be able to turn on the TV without seeing a Trump ad," Stepien said.
The decision amounts to a last-minute reversal for the Trump campaign. Trump went dark on TV in Minnesota this week, following six weeks of cutting back on reserved ad time. But his camp still has $1.4 million of planned time in the Minneapolis-St. Paul TV market next week that it reserved in July and never canceled. 
Neither Trump or Pence have visited the state since Sept. 30, which marked the president's last rally before his coronavirus infection briefly forced him off the campaign trail.
Minnesota DFL chairman Ken Martin said he wasn't surprised by the Trump campaign's move because the president is "personally obsessed" with flipping the state, which hasn't voted for a Republican presidential candidate since 1972. Trump came within 1.5 percentage points of Democrat Hillary Clinton in 2016.
"We expect this race to be close and no one should take their foot off the gas here," Martin told reporters. But he added, "I wouldn't trade our spot with theirs."
Both campaigns face a diminishing pool of persuadable voters in Minnesota, where nearly 1.2 million absentee ballots have already been returned an accepted. That amounts to 40 percent of the total turnout in 2016.