Utah snowmobilers build fire, snow cave after becoming stranded in overnight winter storm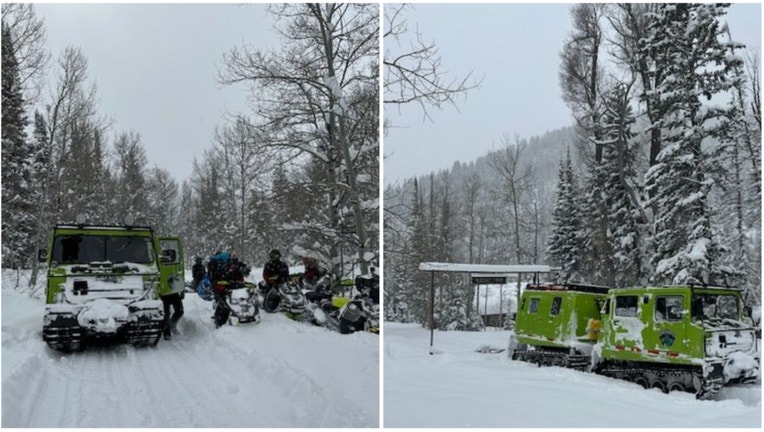 article
Two Utah snowmobilers are lucky to be alive after becoming stranded Wednesday in an overnight storm in Utah.
According to the Summit County Sheriff's Office, search and rescue teams responded to the Bear River Station area of Mirror Lake Highway in Summit County regarding two adult males who were stranded on their snowmobiles. 
The agency's public information officer Felicia Sotelo told FOX Television Stations that the men rode into a bowl-like depression on their snowmobiles and were unable to get out. 
"[They] essentially were stranded," Sotelo shared, noting that their tracked vehicles were low on fuel.
"They didn't plan on being out all day," she continued. "They built a snow cave, they built a fire." 
The individuals utilized a SPOT location device, making it possible for the men to communicate with emergency officials, which assisted the rescue team in locating them. 
RELATED: Jeremy Renner reveals snowplow accident left him with '30 plus broken bones'
"Obviously no one wants to spend the night unexpectedly in the snow," Sotelo said, adding, "But they did have at least some backcountry experience and knowledge to keep themselves sheltered during the storm overnight." 
Despite heavy snow overnight and very steep terrain, emergency officials were able to find the men in "good condition" after several hours. 
"Rescuers were really happy that they were able to find them as quickly as they were even though it took some time," Sotelo said.
Officials urge the public to stay prepared and have a plan when recreating. 
"Tell someone where you're going, take food and water, wear appropriate clothing for the weather, and take an emergency communication device if possible," the agency said on Facebook. 
This story was reported from Los Angeles.