Tyre Nichols murder: Activists rally at Minnesota Governor's Residence
ST. PAUL, Minn. (FOX 9) - Activists took to the streets in St. Paul demanding more police accountability as waves of reaction continue to be felt after the murder of Tyre Nichols in Memphis.
Body camera video released on Friday showed Nichols' brutal beating at the hands of police officers. Nichols' death has spurred protests in Memphis and beyond. The video shows five Memphis police officers restraining, tasing, pepper spraying and beating Nichols as he calls out for his mother – disturbing moments that echo the death of George Floyd in Minneapolis.
Since the killing, all five police officers have been fired and charged with murder for Nichols' death. The street crime unit to which the officers belonged to has since been disbanded as well.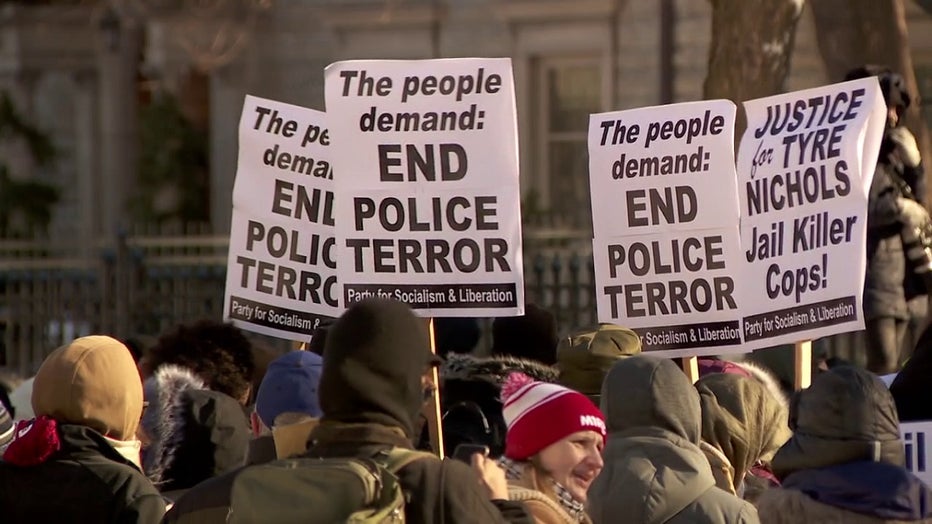 Outside the governor's residence in St. Paul on Sunday afternoon, activists called for justice in Nichols' murder and for state leaders to take action to prevent another killing like Nichols' or Floyd's.
The rally was organized by a number of groups including an organization made up of families who've lost loved once at the hands of police.
"When a family member dies of natural causes it's hard," said speaker Marques Armstrong with Hope and Healing Counseling Services. "But then when your family members was taken from you, murdered by those who we pay to protect us. That pain is even greater. The trauma runs deeper."
Rallygoers in Minnesota braved the extreme cold on Sunday rallying outside the governor's residence and taking part in a short march around neighboring streets.
A funeral for Nichols will be held this week in Memphis. The officers involved in his killing are set to be arraigned next month.