Tom Sizemore, 'Saving Private Ryan' Actor, Dies at 61 after suffering brain aneurysm
LOS ANGELES (AP) - Tom Sizemore, the "Saving Private Ryan" actor whose bright 1990s star burned out under the weight of his own domestic violence and drug convictions, died Friday at age 61.
The actor had suffered a brain aneurysm on Feb. 18 at his home in Los Angeles. He died in his sleep Friday at a hospital in Burbank, California, his manager Charles Lago said.
Sizemore became a star with acclaimed appearances in "Natural Born Killers" and the cult-classic crime thriller "Heat." But serious substance dependency, abuse allegations and multiple run-ins with the law devastated his career, left him homeless and sent him to jail.
As the global #MeToo movement wave crested in late 2017, Sizemore was also accused of groping an 11-year-old Utah girl on set in 2003. He called the allegations "highly disturbing," saying he would never inappropriately touch a child. Charges were not filed.
Despite the raft of legal trouble, Sizemore had scores of steady film and television credits — though his career never regained its onetime momentum. Aside from "Black Hawk Down" and "Pearl Harbor," most of his 21st century roles came in low-budget, little-seen productions where he continued to play the gruff, tough guys he became famous for portraying.
"I was a guy who'd come from very little and risen to the top. I'd had the multimillion-dollar house, the Porsche, the restaurant I partially owned with Robert De Niro," the Detroit-born Sizemore wrote in his 2013 memoir, "By Some Miracle I Made It Out of There." "And now I had absolutely nothing."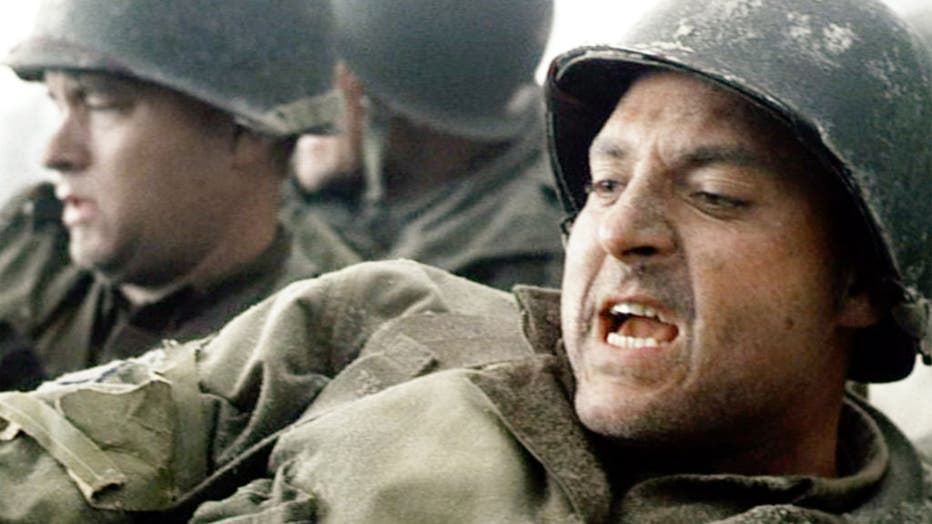 LOS ANGELES - JULY 24: The movie "Saving Private Ryan", directed by Steven Spielberg. Seen here from left, Tom Hanks (as Captain John Miller), and Tom Sizemore (as Sergeant Mike Horvath). Theatrical release July 24, 1998. Screen capture. A Paramount
The book's title was taken from a line uttered by his character in "Saving Private Ryan," a role for which he garnered Oscar buzz. But he wrote that success turned him into a "spoiled movie star," an "arrogant fool" and eventually "a hope-to-die addict."
He racked up a string of domestic violence arrests. Sizemore was married once, to actor Maeve Quinlan, and was arrested on suspicion of beating her in 1997. While the charges were dropped, the couple divorced in 1999.
Sizemore was convicted of abusing ex-girlfriend Heidi Fleiss in 2003 — the same year he pleaded no contest and avoided trial in a separate abuse case — and sentenced to jail. The former Hollywood madam testified that he had punched her in the jaw at a Beverly Hills hotel, and beaten her in New York to the point where they couldn't attend the "Black Hawk Down" premiere.
The sentencing judge said drug abuse was likely a catalyst but that testimony had revealed a man who had deep problems dealing with women. Fleiss called Sizemore "a zero" in a conversation with The Associated Press after his conviction.
Sizemore apologized in a letter, saying he was "chastened" and that "personal demons" had taken over his life, though he later denied abusing her and accused her of faking a picture showing her bruises.
Fleiss also sued Sizemore, saying she suffered emotional distress after he threatened to get her own probation revoked. Fleiss had been convicted in 1994 of running a high-priced call-girl ring. That lawsuit was settled on undisclosed terms.
Sizemore was the subject of two workplace sexual harassment lawsuits related to the 2002 CBS show "Robbery Homicide Division," in which he played a police detective. He was arrested as recently as 2016 in another domestic violence case.
Sizemore ended up jailed from August 2007 to January 2009 for failing numerous drug tests while on probation and after Bakersfield, California, authorities found methamphetamine in his car.
"God's trying to tell me he doesn't want me using drugs because every time I use them I get caught," Sizemore told The Bakersfield Californian in a jailhouse interview.
Sizemore told the AP in 2013 that he believed his dependency was related to the trappings of success. He struggled to maintain his emotional composure as he described a low point looking in the mirror: "I looked like I was 100 years old. I had no relationship with my kids; I had no work to speak off. I was living in squat."
He appeared on the reality TV show "Celebrity Rehab" and its spinoff "Sober House," telling the AP that he did the shows to receive help, but also partly to pay off accumulated debts that ran into the millions.
Many of Sizemore's later-career films had a sci-fi, horror or action bent: In 2022 alone, he starred in movies with such titles as "Impuratus," "Night of the Tommyknockers" and "Vampfather." But Sizemore still nabbed a few meaty roles — including in the "Twin Peaks" revival — and guest spots on popular shows like "Entourage" and "Hawaii Five-O."
A stuntman sued Sizemore and Paramount Pictures in 2016, saying he was injured when the allegedly intoxicated actor ran him over while filming USA's "Shooter." State records obtained by the AP showed that Sizemore was only supposed to be sitting in the unmoving car and that he "improvised at the end of the scene and drove away in his car." Sizemore was fired from "Shooter" and the stuntman's lawsuit was settled on undisclosed terms.
In addition to his film and TV credits, he was part of the voice cast for 2002's "Grand Theft Auto: Vice City" video game. He also taught classes at the LA West Acting Studio, according to recent advertisements.
He is survived by his 17-year-old twin sons, Jayden and Jagger, and his brother Paul, all of whom were by his side when he died.
"I've led an interesting life, but I can't tell you what I'd give to be the guy you didn't know anything about," Sizemore wrote in his memoir.