Suspected duo goes on animal killing spree inside pet store: 'This one will make you angry'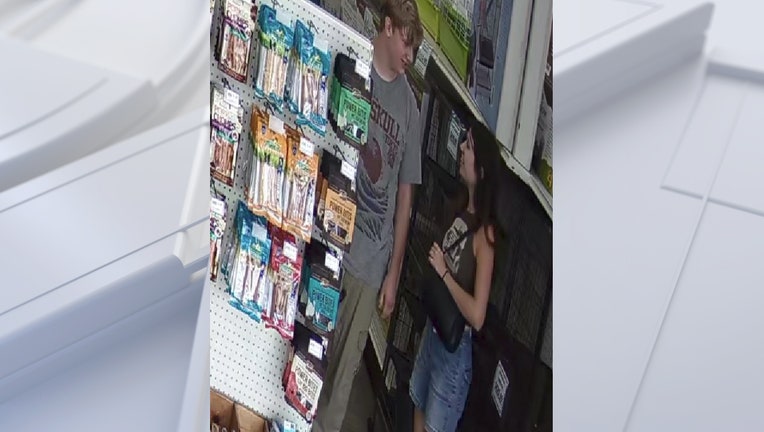 article
OKLAHOMA CITY - The Oklahoma City Police Department is looking for a man and a woman in a bizarre crime spree where several animals were killed inside a pet store. 
"Folks, this one will make you angry," authorities posted on Facebook along with a picture of the suspects. 
Authorities believe the suspects entered the Petland store and killed a parakeet and a bunny inside their cages on July 14. An assistant manager later discovered the deaths and called police. 
After finding two dead animals, staff members became suspicious, and the store manager began reviewing surveillance footage.
The footage, the police report said, revealed a man and woman entered the store at about 3:30 p.m. before requesting a puppy be brought out to them.
RELATED: Man stops his truck, gets out to help tackle suspect running from police
After meeting the puppy, the man went to the area where the bunnies and parakeets are located in the store.
Police said in the video, the man appeared to reach into the bunny enclosure and hold a bunny down. He then looked around and let go of the bunny.
In another video, police said, the man reached into a parakeet enclosure, and while the woman was not near the man, she appeared to be a lookout for him.
As the man reached into the parakeet enclosure, he allegedly broke the bird's neck then moved away.
Officers also believe the suspects removed a hamster and guinea pig from their enclosures. 
The hamster was killed in the parking lot, and the guinea pig is missing. It appeared the hamster was stomped to death.  
Authorities said if you have any information that could lead to an arrest to call Crime Stoppers at 405.235.7300 or go to www.okccrimetips.com. You can remain anonymous and may earn a cash reward. 23-50410.
This story was reported from Los Angeles.  FOX News contributed to this report.