Suspect drops object onto car from I-35W bridge, shattering windshield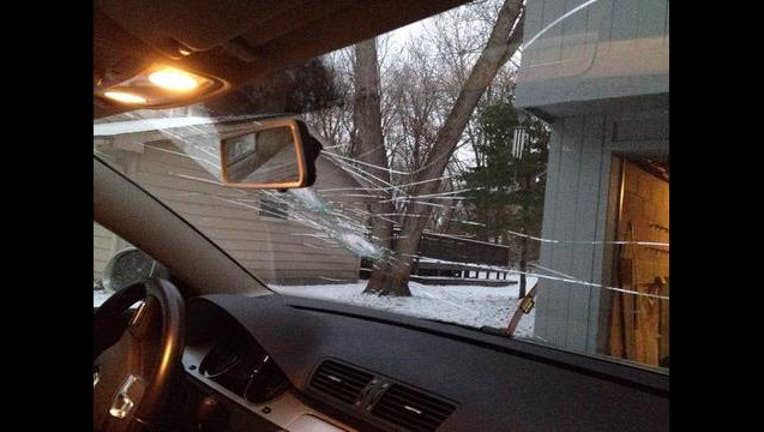 article
Around 4 p.m. yesterday, Sarah Halden, wife of Fox 9 anchor Tom Halden, was driving southbound on I-35W through Minneapolis when somebody standing on the 38th St. bridge dropped a rock or ball of some sort onto the windshield of her car.
She wasn't hurt, but the windshield was shattered, and shards of glass were strewn all over the vehicle's interior. And whoever dropped the ball or rock onto her car did it on purpose, she says.
Reached for comment just as the windshield was being fixed in his driveway today, Tom Halden says his wife "just happened to be at the right or wrong place at the wrong time yesterday afternoon."
Sarah describes the suspect as a young man in his late teens or early 20s who was wearing a big hood at the time.
"It was over in about one second," Tom says.
Tom says Sarah called 911 and was directed to file a police report online, which she did.
"It's not a big thing in the grand scheme of Minneapolis," Tom says. "It could've been awful -- we cover those stories all the time."
Minneapolis police spokesperson John Elder referred all questions to the State Patrol. A patrol spokesperson didn't immediately respond to an email and voicemail seeking comment.
:::: UPDATE :::::
State Patrol spokesperson Tiffani Nielson tells us her agency doesn't have any additional information about the incident.
"Sometimes we've had that happen and traffic management cameras can capture things at particular times," she says. "We pursue criminal charges when we can prove someone did something."
Asked how often these sorts of things occur, Nielson says, "they do happen occasionally."
"The people we find are throwing rocks are often children, not always adults," Nielson adds.