State Dept. reverses cancellation of visas, DHS stops implementing key parts of order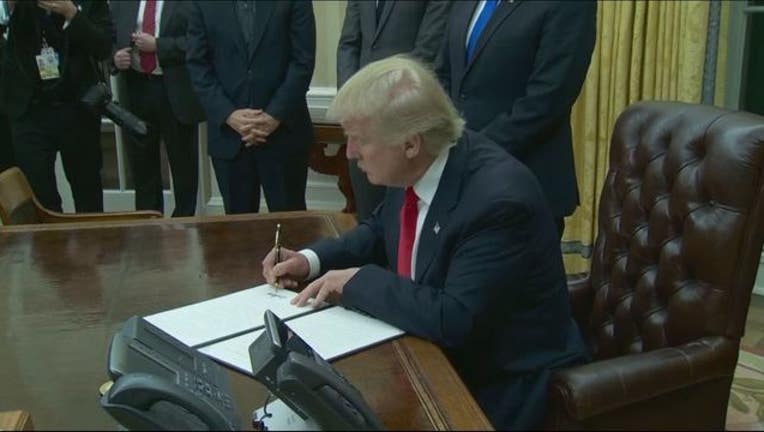 article
(WASHINGTON - AP) Homeland Security won't direct airlines to keep visa-holders covered by Trump order from boarding US-bound planes.

   10:20 a.m.

The State Department says it's reversed the cancellations of visas for foreigners after a federal judge put on hold President Donald Trump's executive order on immigration.

The department had said up to 60,000 foreigners from seven majority-Muslim countries had their visas "provisionally revoked" to comply with Trump's order blocking them from traveling to the United States.
The department says it acted to reinstate the visas after getting word from the Justice Department about the judge's ruling Friday in Washington state.

For now, the department says people covered by the order and holding a valid visa may now travel to the United States.

   ------

   9:30 a.m.

Seventy-two Iranian professors in Sharif University of Technology, one of the most reliable universities in Iran, have requested in a letter to the Iranian government to react in a different way to Trump's "improper action" on the visa ban.

They proposed to President Hassan Rouhani and Foreign minister Mohammad Javad Zarif allow U.S. citizens come to Iran without obtaining a tourist visa and related formalities in the country and to issue visas for them at the Iran's airport with two-weeks validity during the next 90 days.

They said that Americans can see the hospitality and goodwill of Iranians for themselves.

   ------

   9:30 a.m.

The Middle East's biggest airline has joined its smaller Gulf rivals in confirming passengers from seven previously banned countries would be allowed to travel to the United States.

Dubai-based Emirates said in a statement Saturday that under the direction of U.S. Customs and Border Protection, nationals of Iran, Iraq, Libya, Somalia, Sudan, Syria, Yemen holding valid visas or green cards could fly to the U.S. It says all refugees with visas would also be allowed to fly.
It cautioned that "entry requirements to the U.S. may change, and Emirates will continue to comply with guidance provided by the U.S. Customs and Border Protection."

Emirates offers daily flights from Dubai to several U.S. cities. Its rivals Qatar Airways and Abu Dhabi-based Etihad Airways issued similar guidance to passengers earlier Saturday.

   ------

   9:30 a.m.

An Iraqi official at Baghdad international airport says the travel terminal was particularly crowded Saturday following news that U.S. President Donald Trump's travel ban on Iraqis and six other majority Muslim nations was blocked by a federal judge's ruling.

Haider al-Rubaie, an official with the state-run Iraqi airways said flights from Baghdad to Dubai, Istanbul and Cairo were booked solid Saturday afternoon. While there are no direct flights to the US from Baghdad, al-Rubaie said many of the passengers were holding transit tickets to the US.

Iraqi member of parliament Ibrahim Bahr Uloom praised the U.S. judge who ruled against Trump's ban and admonished the Iraqi leaders who were unable to achieve the same ends through diplomatic channels.
"The U.S. justice system is better than Iraqi diplomacy," he said. "Today we thank the American judiciary."

   ------

   9 a.m.

   In Egypt, Cairo airport and airlines officials say they have received instructions from the U.S. Customs and Border Protection to suspend President Trump's executive order to ban travel to the United States by migrants from seven Muslim-majority countries: Somalia, Iraq, Syria, Iran, Sudan, Libya and Yemen. 

   They say on Saturday there have not been any U.S.-bound migrants from those countries going through Egyptian airports since a federal judge on Friday blocked President Donald Trump's ban on admitting travelers from the seven countries or any refugees.

   ------

   7:30 a.m.

   President Donald Trump isn't happy that a federal judge has put on hold his executive order that applies to refugees and people from seven predominantly Muslim countries who want to enter the United States.

   The White House has promised a quick appeal and Trump has taken to Twitter to vent his frustration with the ruling.

   He says "the opinion of this so-called judge, which essentially takes law-enforcement away from our country, is ridiculous and will be overturned!"

   Trump also tweets that "when a country is no longer able to say who can and who cannot come in & out, especially for reasons of safety & security -- big trouble!"

   ------

   8 a.m.

Etihad Airways says it will begin accepting U.S.-bound passengers from the seven previously banned countries this week.

The United Arab Emirates' national carrier said Saturday its decision follows guidance from the U.S. Customs and Border Protection unit at its hub in Abu Dhabi.

The airline says it is monitoring developments in the U.S. and that passengers will be subject to screening measures in place before Trump's executive order was issued.

U.S. border officials stationed in Abu Dhabi carry out passport and customs screenings before passengers board U.S.-bound flights under an existing pre-screening program.

   ------

   6:15 a.m.

The U.S. embassy in Baghdad says they are still awaiting guidance following news of a court order blocking President Trump's ban on travelers from Iraq and six other predominantly Muslim countries.

"We don't know what the effect will be, but we're working to get more information," the embassy told The Associated Press in a statement, adding that embassy staffers have received a large number of phone calls and inquiries from Iraqis eager to see if the visa restrictions had changed.

Iraq's government spokesman says the prime minister's office is also waiting for the "official position of the U.S. administration."
In a largely symbolic move, the Iraqi parliament called for a reciprocity measure last week increasing pressure on the country's government as it attempts to balance Iraq's alliance with the U.S. and powerful Iraqi political blocks with close ties to Iran.

   ------

   3:40 a.m.

Qatar Airways has issued an advisory to passengers saying citizens of the seven Muslim-majority countries previously barred from entry who hold a valid U.S. visa or green card will be allowed to travel to the U.S.

The airline cited a directive by U.S. Customs and Border Protection.

Government-backed Qatar Airways is one of a handful of Mideast airlines operating direct daily flights to multiple American cities. Like other Gulf carriers, many of its customers are transit passengers whose journeys originated elsewhere.

Its U.S. destinations from its Doha hub include New York, Chicago, Los Angeles, Miami and Washington.

   ------

   3 a.m. Cairo

Foreign airlines operating in Iran have instructed travel agencies not to sell U.S.-bound flight tickets to Iranians holding U.S. visas in the wake of President Donald Trump's executive order banning visas for seven Muslim countries, including Iran.

The move comes even though a U.S. judge on Friday temporarily blocked the ban, siding with two states that urged a nationwide hold on the executive order that has launched legal battles across the country.

The directive does not come from U.S. airlines.

In Tehran, the Kowsar travel agency told The Associated Press they had been instructed by foreign airlines not to sell tickets to Iranians with visas to enter the U.S.

The agency said there was no problem for those who have a permanent resident card or a U.S. passport.