Changes to Starbucks' reward program kick in Monday — what to know
SEATTLE - Heads up for regular Starbucks customers. The number of "stars" needed to get certain food and drinks for free in the U.S. and Canada as part of the coffee giant's rewards program officially changes on Monday. 
When members of Starbucks' rewards program spend money via their online account, they can earn stars, including two for every $1 with a Starbucks card and one for every $1 with a credit or debit card. They can put those stars toward redeeming rewards like free drinks and merchandise, depending on how many they have.
RELATED: Family shocked by $4,444 charge after Starbucks run
An update to the Starbucks rewards program, announced in December, involves increasing the number of stars needed to redeem things in three different tiers. The changes take effect on Feb. 13.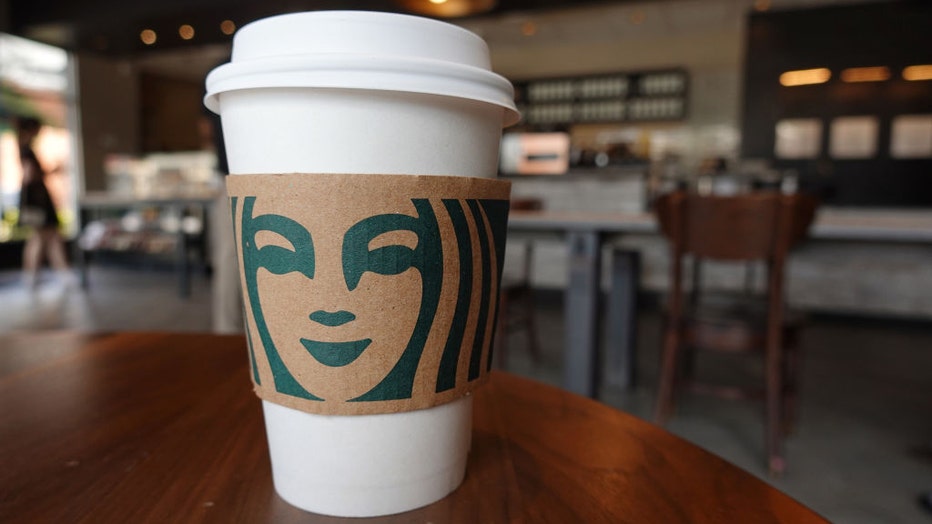 FILE - A Starbucks coffee cup sits on a table on June 11, 2021, in Miami, Florida. (Photo by Joe Raedle/Getty Images)
Under these changes, customers need to earn 100 stars to get: 
A hot brewed coffee or hot steeped tea
An iced brewed coffee or iced brewed tea
A bakery item (such as a cake pop or cookie)
A packaged snack (such as popcorn or potato chips)
One (1) Cold Siren Logo Plastic To-Go Cup (24 oz only)
One (1) Siren Logo Plastic Hot Cup (16 oz only)
For hot brewed coffee, hot steeped tea, and a bakery item, only 50 stars have been required to redeem those in the past. Meanwhile, the number of stars to get a free iced brewed coffee, iced brewed tea, and package snack is going down by 50 stars.
Under the new changes, 200 stars can be redeemed for: 
A handcrafted drink
A hot breakfast item
Previously, customers could get a handcrafted drink like a latte or a hot breakfast item like oatmeal for only 150 stars.
Customers who earn 300 stars can get:
A free lunch sandwich
A protein box
A salad
Packaged coffee
The packaged foods previously were redeemable for 200 stars. The packaged coffee, however, dropped a tier from 400 stars.
Customers who earn 400 stars can get a free signature mug, drink tumbler, or their choice of coffee merchandise. Any items over $20 can be redeemed by paying the difference between the price and the $20 Reward credit.
The lowest and highest reward tiers will not see their point requirements change, staying at 25 and 400 stars, respectively. Through the 25-star tier, customers can redeem a beverage modifier, such as an extra espresso shot or syrup. 
RELATED: Starbucks to offer nationwide DoorDash delivery by March
This story was reported from Cincinnati. FOX Business contributed.