St. Paul firefighters rescue man stuck on cliff 100 feet above Mississippi River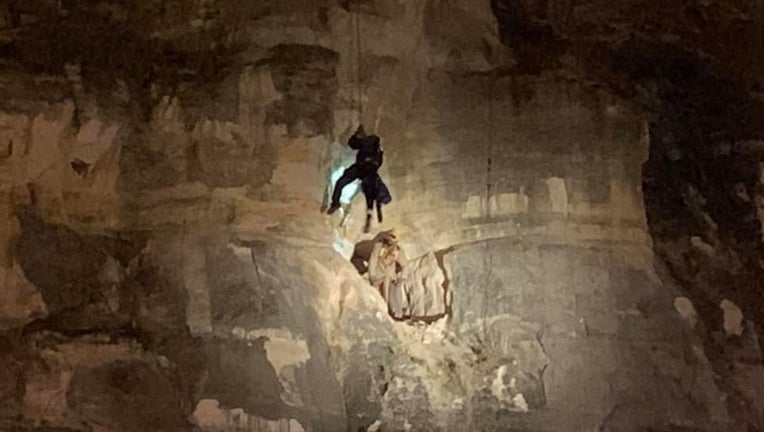 ST. PAUL, Minn. (FOX 9) - A video posted online by the St. Paul Fire Department shows fire crews pulling a man from a cliff in the early morning hours on Saturday.
St. Paul's Rescue Squad 3 responded to the area of Wabasha Street and Shepard Road for the rescue at 1:37 a.m.
Firefighters say the man was stuck 100 feet up the Mississippi River gorge and had no way to get down.
Using a rope and harness, firefighters were able to climb down the gorge and save the man.
"Estimation is that he was trying to access an entrance to a cave on the bluffs," said St. Paul Fire Captain Mike Aspenes. "We got hundreds of miles of caves and tunnels in St. Paul and people are in and out of them pretty frequently."
Fire officials tell FOX 9 the man used a wire contraption he made nearby to get onto the ledge but did not feel secure using it to get back up. It is unclear who called 911.
"Because the bluff is not straight up and down or particularly clean," said Capt. Aspenes, "they had to spend a fair amount of time protecting the edges so the rope wasn't cut during the rescue."
First responders say they are often called there for people trying to use the caves as places to stay warm since it's always 50 degrees, but that can often lead to deadly consequences.
"The biggest dangers that we run into are low oxygen concentration, carbon monoxide from fires that are set in that area to keep warm," explained Aspenes. "We've had multiple deaths throughout the years because of carbon monoxide or low oxygen in the air."
Crews say no injuries were reported in the rescue.