Allergy alert: Early spring blooms are here and could mean 'a longer and more intense pollen season'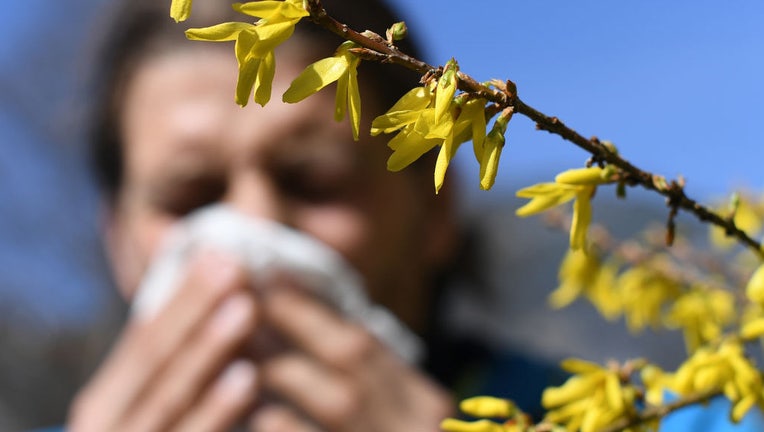 article
Even though it's the dead of winter, scientists are already warning about spring allergies. Trees are leafing out weeks early, and plants are blooming, creating allergy issues for many across the country. 
"We're seeing activity way ahead of schedule across the southern states. And now we're starting to get reports for very early activity all up the eastern side of the U.S. too," Theresa Crimmins, director of the USA National Phenology Network (USA NPN), told FOX Weather. "All the way up into even New York, Massachusetts and Maine."
Unseasonably warm temperatures have led to more than 1,600 daily record highs so far this year. Over 15 cities could break record highs on Wednesday, and over 25 could set new warm record lows. That warmth leads to earlier blooming, which can supercharge allergy season.
THE GREAT DIVIDE: WESTERN US TO SEE BELOW-AVERAGE TEMPERATURES WHILE WARM AIR DOMINATES IN THE EAST
"When we have these warmer temperatures, a lot of plants that create pollen that are problematic for us, can flower earlier than average, and that can result in a longer and more intense pollen season," Crimmins said. "And we are hearing plenty of reports in the southern states of pollen starting to really peak and be problematic for folks already." 
WHY SEASONAL ALLERGIES ARE BECOMING WORSE
POLLEN LEVELS CREEP UP AS WINTER'S ARCTIC BLAST BECOMES A DISTANT MEMORY 
Trend of worse allergy seasons
"We've been seeing a general trend like for the last few decades where pollen seasons are getting longer and more potent," said Dr. Purvi Parikh, an allergist and immunologist with the Allergy Asthma Network. "Because of the higher levels of carbon dioxide, the plants are producing more pollen, higher levels of pollen, too, and that correlates with potentially worse symptoms."
Up to 30% of the world suffers from pollen-induced respiratory issues, according to a study published in the journal Nature Communications. Authors call pollen allergies a "worldwide health concern," which results in economic losses because of medical costs, missed work and school days and early death.
The USA NPN tracks animal and plant cycles as they relate to climate. Their network of observers and experts report on leaf out or bloom status across the country to track the start of spring.
Forecast bloom dates for plants that indicate the start of spring. (USA National Phenology Network / FOX Weather)
The network then creates maps of the progress and uses mathematical models to forecast the start of spring compared to a 30-year average. The EPA and agencies that write the National Climate Assessment use the data.
The network's 'Spring Leaf Index' shows January and February blooming across the southern third of the country and blooming up to 20 days earlier than average.
HOW TO WATCH FOX WEATHER ON TV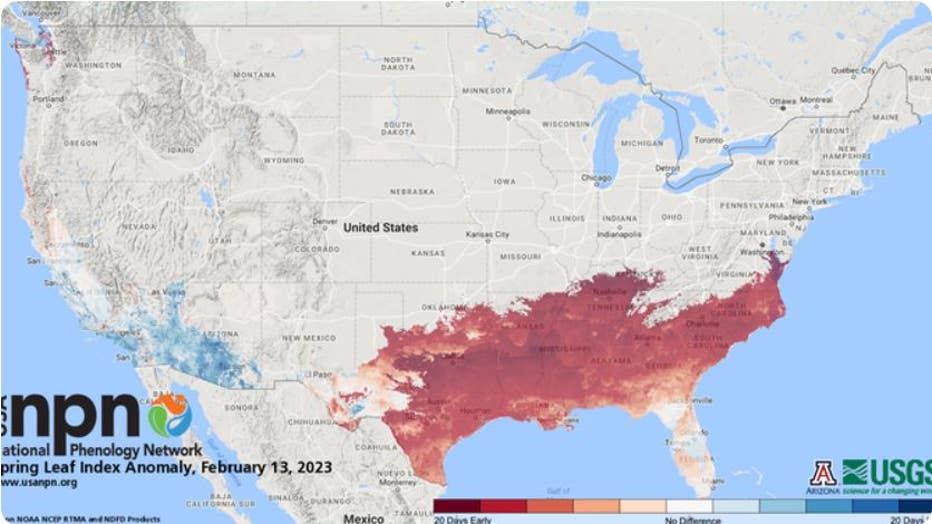 The red shows plants blooming early in the eastern half of the nation but late in the western half. (USA National Phenology Network / FOX Weather)
Pollen seasons are already starting 20 days earlier and are lasting eight days longer in recent decades, according to the pollen study. Total pollen emissions increased by 46%, and plants produced 42% more pollen during peak pollen emissions.
Pollen emissions later this century will likely start 10 to 40 days earlier in the spring and end up to 19 days later in the fall, according to the study's researchers.
EVEN MORE SNIFFLING AND SNEEZING: LONGER ALLERGY SEASON POSSIBLE DUE TO CLIMATE CHANGE, STUDY SUGGESTS 
Could this be a devastating repeat of frosty 2020?
This early spring also leaves plants susceptible to a seasonable cold snap and frost. Crimmins recalls early blooming in 2020 and fears a repeat. She said the leaf out is happening as early as or earlier than in 2020 in areas.
"We had significant losses in crops like the peaches in Georgia, and even the azaleas, those iconic azaleas that graced the fairways for the Masters Tournament flowered far too early," Crimmins said. "And by the time that golf event rolled around, there really weren't any azaleas to speak of."
Pollinators like butterflies, bees and moths also emerge earlier with the warm weather, she added, and can be "very sensitive" to cold temperatures.
WHERE IS THE WESTERN BUMBLEBEE? SUPER-POLLINATOR DECLINED 57% IN 2 DECADES, STUDY SAID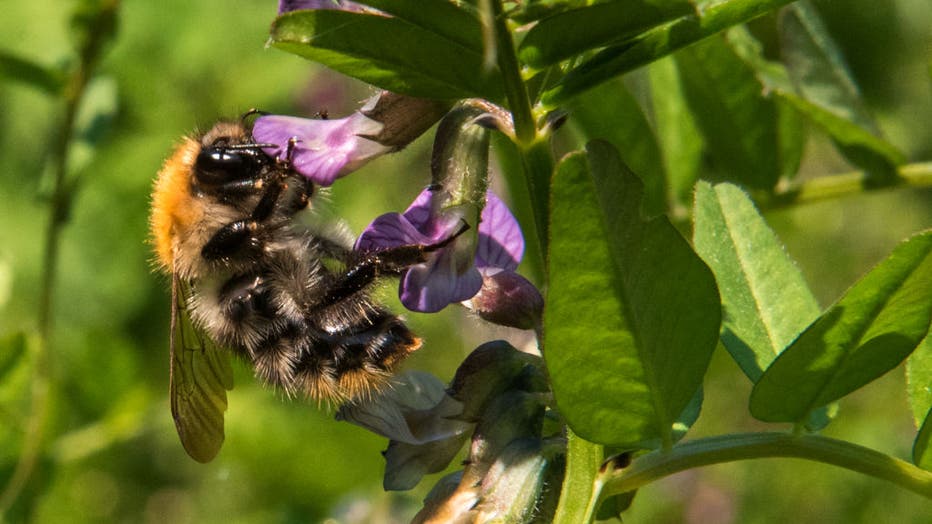 A bumblebee sits on a wildflower. (Photo by Daniel Bockwoldt/picture alliance via Getty Images)
The warmth will hang around the eastern half of the nation through Friday. Detroit could hit the low 60s when the average February high is only 34. Nashville will flirt with 70, and Orlando could see the upper 80s.