South Florida school-shooting suspect indicted on 17 counts of murder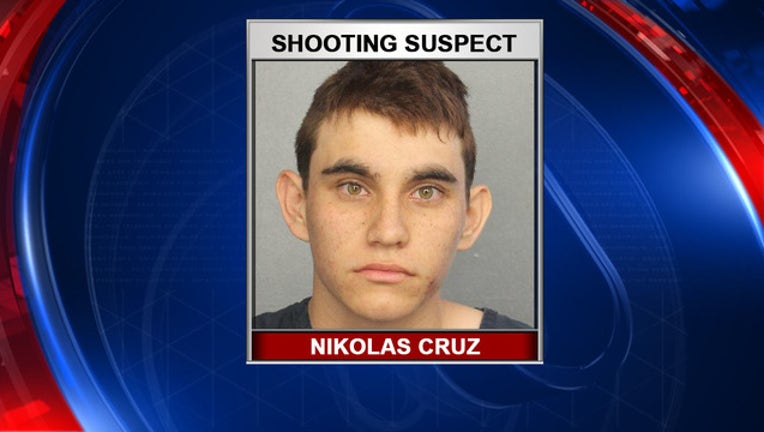 article
FORT LAUDERDALE, Fla. (AP) - Florida school shooting suspect Nikolas Cruz was formally charged Wednesday with 17 counts of first-degree murder, which could mean a death sentence if he is convicted.
The indictment returned by a grand jury in Fort Lauderdale also charges the 19-year-old with 17 counts of attempted murder for the Valentine's Day massacre at Marjory Stoneman Douglas High School in Parkland in which 17 people died and more than a dozen others were wounded.
Cruz's public defender has said he will plead guilty if prosecutors take the death penalty off the table, which would mean a life prison sentence. The Broward County state attorney has not announced a decision on the death penalty.
James and Kimberly Snead, the couple who gave Cruz a home after his mother died late last year, testified before the grand jury Wednesday. Both James Snead and the couple's attorney, Jim Lewis, wore silver "17" pins to honor the victims of the shooting.
The couple is "trying to do the right thing" and is mourning along with the rest of the Parkland community, Lewis said.
"We'll let justice take its course at this point," Lewis said. "They still don't know what happened, why this happened. They don't have any answers. They feel very badly for everybody."
Nikolas Cruz case: How did so many red flags and warnings fall through the cracks?
Cruz told investigators he took an AR-15 rifle to Marjory Stoneman Douglas High School in Parkland on Valentine's Day and started shooting into classrooms.
Jail records released by the Broward Sheriff's Office show Cruz was being held in solitary confinement. Officers described Cruz as being cooperative but avoiding eye contact.
The report said Cruz "often sits with a blank stare," appeared to laugh and exhibited "awkward" behavior during and after a visit with an attorney and had one "family visit." Officers said Cruz also requested a Bible to read in his single-person cell in the infirmary.
In Tallahassee, the Florida House was expected to vote on gun legislation stemming from the school shooting.
The legislation would put some restrictions on rifle sales, provide new mental health programs for schools and improve communication between school districts, law enforcement and state agencies. Democrats' efforts failed Tuesday to strip the bill of language that would create a program to arm some teachers and school employees who complete law enforcement training.
RELATED: These are the lives lost in the Florida high school shooting
Two parents who lost children in the Marjory Stoneman Douglas High School shootings told reporters that all the families of Parkland victims want the legislation to succeed.
Andrew Pollack, who lost his 18-year-old daughter Meadow, and Ryan Petty, who lost his 14-year-old daughter Alaina, said there was enough good in the bill that it should pass.
After visiting the Parkland school Wednesday, U.S. Education Secretary Betsy DeVos said she wants to hear suggestions to improve school safety from students who survived the shooting.
%INLINE%
DeVos told reporters that arming some teachers should be considered an option but not a requirement. As a model, she cited a program in Florida's Polk County where teachers or other employees at two private universities have trained with the sheriff's office so they can carry concealed weapons on campus.
The Sun Sentinel reported a second student injured in the shooting has filed a letter of intent to sue the Broward Sheriff's Office, the school system and others. Doctors said one bullet tore through 15-year-old Kyle Laman's ankle and foot, according to a statement from The Berman Law Group, which is representing the teenager.
"Kyle is still dealing with memories of the terror he felt when his classroom was locked and he was stuck in the hallway during the shooting," the statement said. "The teacher couldn't get the door open fast enough. Everyone was running scared. Kyle looked at the gunman staring right back at him, and instinctively jumped for cover."
Separately, 15-year-old Anthony Borges and his parents have notified county officials of their plan to sue. Anthony was shot five times in his legs and torso and remains hospitalized, his attorney Alex Arreaza said.
------
Farrington reported from Tallahassee, Florida, and Replogle reported from Parkland, Florida. Associated Press writers Freida Frisaro and Jennifer Kay in Miami contributed to this report.