Sheriff Hutchinson agrees to pay $47K for county SUV wrecked in DWI crash
MINNEAPOLIS (FOX 9) - Hennepin County Sheriff Dave Hutchinson will get until 2029 to repay the county more than $47,000 for the SUV he drunkenly crashed at more than 100 miles an hour in December.
Under terms of the agreement, Hutchinson must make $250 biweekly payments starting Feb. 18. While he can pay the balance in full at any time, Hutchinson does not need to make an up-front payment and is not required to pay interest. 
Hutchinson and the county signed the deal Tuesday, the same day the Hennepin County Board was scheduled to hold a closed-door meeting to discuss "legal strategies" against the sheriff. Hutchinson was removed from the agenda. He makes a $186,000 salary as sheriff.
The year-old Ford Explorer cost $67,665 to purchase and install after-market police equipment. Hutchinson is only required to repay $47,711 because of the depreciation schedule used by the Sheriff's Office on the vehicle, according to the agreement obtained by FOX 9.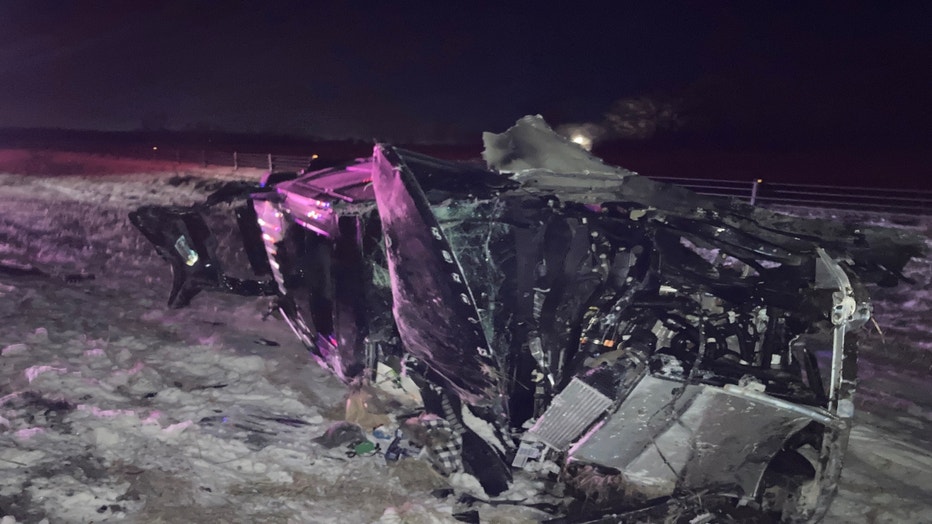 Sheriff Dave Hutchinson's car at the scene of his DWI crash.  (Minnesota State Patrol)
Minnesota State Patrol said Hutchinson was traveling at speeds up to 126 miles per hour when he crashed along Interstate 94 near Alexandria at 2:30 a.m. Dec. 8. 
Hutchinson had been in Alexandria for a Minnesota Sheriff's Association conference at the Arrowwood Resort. Hutchinson got on the road after calling a taxi driver to ask if there were any bars open, investigative files indicate. The cab driver told him no.
After wrecking his SUV, squad video and case files show Hutchinson lied about who was behind the wheel. His blood-alcohol level, measured nearly three hours later because Hutchinson delayed the process at the hospital, showed a .13 BAC.
Following the crash, Hutchinson pleaded guilty to fourth-degree driving while intoxicated and avoided jail time. 
He initially said he would run for re-election this fall, resisting calls from a majority of the Hennepin County Board, Gov. Tim Walz, and numerous state lawmakers to resign. Last week, he announced he would not run after his fundraising dried up.