School bus stop arm cameras already making a difference in New Prague
NEW PRAGUE, Minn. (FOX 9) - One Minnesota school district has already found success in holding drivers accountable when they drive past school buses, thanks to a state grant project.
The state has awarded millions of dollars in grant money to school districts to install cameras on school bus stop arms. The Minnesota Department of Public Safety Office of Traffic Safety announced this week it awarded another $1.4 million as part of its fourth round of grants.
New Prague Area Schools was one of the first districts to receive the grant. In February 2022, the state awarded nearly $120,000, allowing district officials to install new 41 camera systems.
Tim Dvorak, the district's lead mechanic, said the program has already been quite a success. 
So far during the current school year, the district has already reported 75 stop arm violations. That's compared to five violations during the entire 2021-2022 school year. District officials send the license plate information and vehicle description to law enforcement agencies, and officers decide how to proceed.
"We've had one (violation) where (the driver passes) on the left side after the bus is stopped, but the majority of them are the buses going north and the other vehicle's going south," Dvorak explained.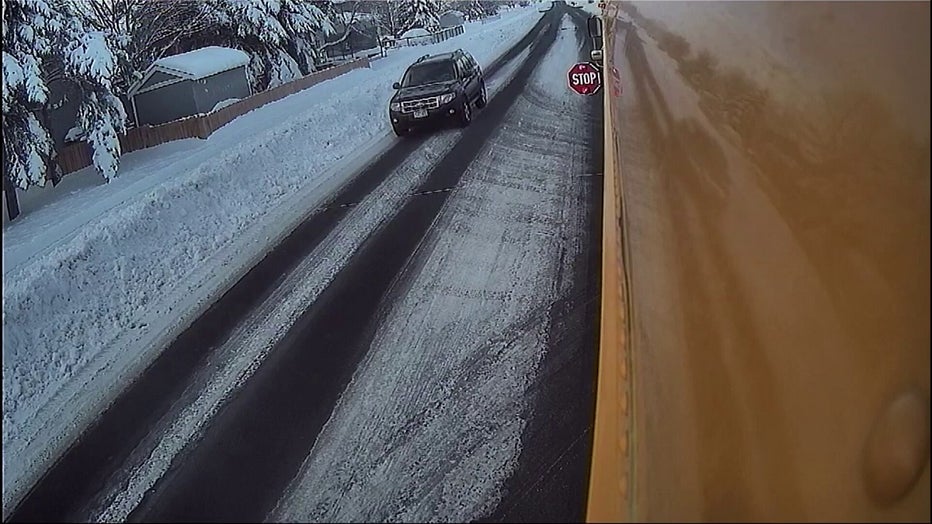 A driver illegally passing a school bus gets caught on camera. (FOX 9)
District officials learned that many of the violators were high school students, so they sent an email to families in November explaining the rules of the road.
Dvorak shared videos with FOX 9 of cars flying past stopped school buses. In one video, you can see students about to cross to road as the car comes by.
"A lot of the excuses that we hear are: They didn't see it. If you didn't see a big yellow bus with flashing lights on it, then how they're going to see the little kid that's crossing the road?" Dvorak said.
It's difficult to watch videos of the stop arm violations, but it's even harder to be behind the wheel while they're happening.
"Sometimes they don't even look at you. Or they look at you and they just drive on by," said Alice Chlan, a New Prague bus driver of 34 years.
For drivers like Chlan, the cameras allow her to have one fewer worry.
"When we didn't have the cameras, it was almost impossible to get the license number or the color of the car or if it was a man or a lady driving the car because they're going by so fast," she explained.
Instead, she's able to focus on the most important part of her job.
"I want to get my kids to and from school safely. I treat my kids on my bus just like if they were my own," she said.
Violations reported by year in New Prague
2022-2023 YTD: 75
2021-2022: 5
2020-2021: 1
2019-2020: 1
2018-2019: 5
2017-2018: 3
2016-2017: 0
2015-2016: 0
2014-2015: 3
2013-2014: 10
2012-2013: 10
2011-2012: 24
2010-2011: 11
2009-2010: 15
2008-2009: 13
2007-2008: 12
2006-2007: 14
2005-2006: 18
2004-2005: 9