Putin blames West for Ukraine war, defends invasion in major speech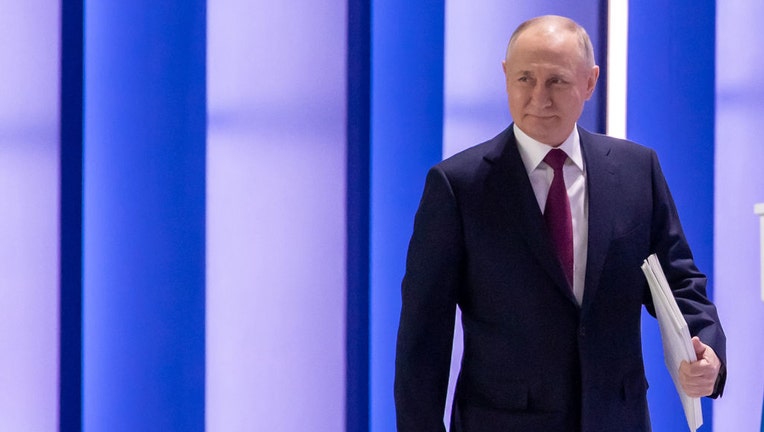 article
MOSCOW - Russian President Vladimir Putin accused Western countries Tuesday of igniting and sustaining the war in Ukraine, dismissing any blame for Moscow almost a year after the Kremlin's unprovoked invasion of its neighbor that has killed tens of thousands of people.
In his long-delayed state-of-the-nation address, Putin cast Russia — and Ukraine — as victims of Western double-dealing and said Russia, not Ukraine, was the one fighting for its very existence.
"We aren't fighting the Ukrainian people," Putin said in a speech days before the war's first anniversary on Friday. Ukraine "has become hostage of the Kyiv regime and its Western masters, which have effectively occupied the country."
The speech reiterated a litany of grievances that the Russian leader has frequently offered as justification for the widely condemned war and ignored international demands to pull back from occupied areas in Ukraine.
Observers are expected to scour it for signs of how Putin sees the conflict, which has become bogged down, and what tone he might set for the year ahead. The Russian leader vowed no military let-up in Ukrainian territories he has illegally annexed, apparently rejecting any peace overtures in a conflict that has reawakened fears of a new Cold War.
Instead, he offered his personalized version of recent history, which discounted arguments by the Ukrainian government that it needed Western help to thwart a Russian military takeover.
"Western elites aren't trying to conceal their goals, to inflict a 'strategic defeat' to Russia," Putin said in the speech broadcast by all state TV channels. "They intend to transform the local conflict into a global confrontation."
He added that Russia is prepared to respond to that as "it will be a matter of our country's existence."
While the Constitution mandates that the president deliver the speech annually, Putin never gave one in 2022, as his troops rolled into Ukraine and suffered repeated setbacks.
Before the speech, Kremlin spokesman Dmitry Peskov said that the Russian leader would focus on the "special military operation" in Ukraine, as Moscow calls it, and Russia's economy and social issues. Many observers predicted it would also address Moscow's fallout with the West — and Putin began with strong words for those countries.
"It's they who have started the war. And we are using force to end it," Putin said before an audience of lawmakers, state officials and soldiers who have fought in Ukraine.
RELATED: Biden makes unannounced visit to Ukraine: 'One year later, Kyiv stands'
Putin accused the west of launching "aggressive information attacks" and taking aim at Russian culture, religion and values because it is aware that "it is impossible to defeat Russia on the battlefield."
He also accused Western nations of waging an attack on Russia's economy with sanctions — but declared they hadn't "achieved anything and will not achieve anything."
Putin also said that Russia would suspend its participation in a treaty aimed at keeping a lid on nuclear weapons expansion. The so-called New START Treaty was signed by Russia and the U.S. in 2010. It caps the number of long-range nuclear warheads they can deploy and limits the use of missiles that can carry atomic weapons.
Putin said Tuesday in a major address that Russia was not fully withdrawing from the treaty yet. He said Russia must stand ready to resume nuclear weapons tests if the US does so.
Underscoring the anticipation ahead of time, some state TV channels put out a countdown for the event starting Monday, and Russia's state news agency RIA Novosti on Tuesday morning said the address may be "historic."
The Kremlin this year has barred media from "unfriendly" countries, the list of which includes the U.S., the U.K. and those in the EU. Peskov said journalists from those nations will be able to cover the speech by watching the broadcast.
Peskov told reporters that the speech's delay had to do with Putin's "work schedule," but Russian media reports linked it to the multiple setbacks Russian forces have suffered on the battlefield in Ukraine.
The Russian president had postponed the state-of-the-nation address before: In 2017, the speech was rescheduled for early 2018.
Last year the Kremlin has also canceled two other big annual events — Putin's press conference and a highly scripted phone-in marathon where people ask the president questions.
Analysts expected Putin's speech would be tough in the wake of U.S. President Joe Biden's visit to Kyiv on Monday. Biden plans to give his own speech later Tuesday in Poland, where he's expected to highlight the commitment of the central European country and other allies to Ukraine over the past year.
White House national security adviser Jake Sullivan said that Biden's address would not be "some kind of head to head" with Putin's.
"This is not a rhetorical contest with anyone else," said.
RELATED: US says Russia has committed crimes against humanity in Ukraine