President Trump, Mexican President Nieto shelve White House meeting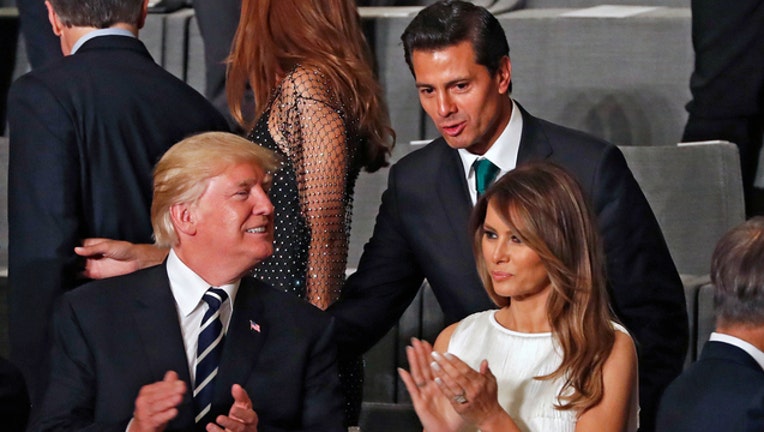 article
WASHINGTON - (AP) — A tentative plan for President Donald Trump to host his Mexican counterpart in Washington has been put on hold, the White House confirmed Saturday.
Trump and Mexican President Enrique Pena Nieto have agreed that now is not the right time for Pena Nieto to make his first visit since Trump took office more than a year ago, according to a White House official who insisted on anonymity to discuss internal deliberations. U.S. and Mexican officials will continue to talk and work together, the official said.
The Washington Post cited U.S. and Mexican officials in reporting late Saturday that the plan was shelved last week after a testy telephone call between the leaders ended in an impasse over the wall Trump has pledged to build on the U.S.-Mexico border to stem the flow of immigrants and drugs.
Trump promised the wall throughout his presidential campaign, often leading crowds to yell "Mexico" when he asked who would pay for it.
Mexico regards the idea of a border wall as an insult and insists it will not pay.
Trump and Pena Nieto spoke on Feb. 20, the White House said in a statement at the time. Trump offered condolences after a military helicopter carrying officials assessing earthquake damage crashed in the southern Mexican state of Oaxaca, killing 13 people, and Pena Nieto offered condolences over last week's Florida school shooting that left 17 people dead.
The statement said Trump underscored his commitment to expanding cooperation with Mexico on security, trade, and immigration, but did not mention a possible visit by Pena Nieto. The White House sought Saturday to minimize any appearance of a rift in relations with its southern neighbor.
"We enjoy a great relationship with Mexico and the two administrations have been working for a year to deepen our cooperation across a range of issues including security, immigration, trade and economics," said National Security Council spokesman Michael Anton.
Pena Nieto scrapped a planned trip to meet Trump at the White House shortly after Trump took office in January 2017 over Trump's insistence that Mexico pay for the wall.
The leaders met in Germany at the Group of 20 economic summit in July. Trump has not visited Mexico as president, though he and Pena Nieto met in Mexico City when Trump traveled there as a candidate during the 2016 presidential campaign.