PETA offers to pay for Oscar Mayer Wienermobile's stolen catalytic converter if it becomes vegan mobile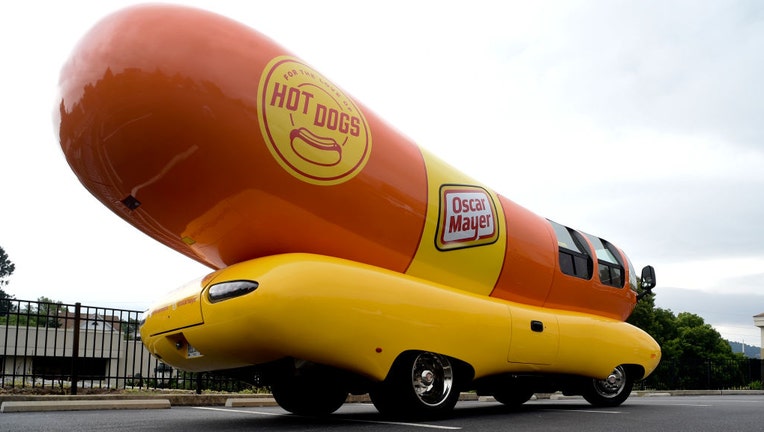 article
Days after reports surfaced of a catalytic converter theft involving an Oscar Mayer Wienermobile in Las Vegas, PETA has offered to pay for the replacement part and maintenance for one year if the company converts the vehicle to a vegan hot dog mobile.
President Ingrid Newkirk made the offer to Carlos Abrams-Rivera, Executive Vice President and President of The Kraft Heinz Company - North America Zone, in a letter sent Thursday. Newkirk suggested the Wienermobile become a NotDogmobile or "something similar" since the company is reportedly working to develop vegan hot dogs.
She noted that her recommendation comes at a time when demand for vegan hot dogs is rising, adding that the global market for plant-based hot dogs grew by 20% last year and is projected to reach a market value of $1.99 billion by 2032.
"Since Americans' appetite for cruelty-free foods is only growing, we hope you'll relish this opportunity to ketchup with the trend by having at least one veggie dog mobile," Newkirk wrote.
OSCAR MAYER WIENERMOBILE FALLS VICTIM TO CATALYTIC CONVERTER THEFT DURING LAS VEGAS STOP
In her letter, Newkirk included the potential health risks associated with eating hot dogs, citing a World Health Organization report that found eating processed meat can cause cancer. The WHO also said eating processed meat has the same cancer risk as smoking tobacco.
"Instead of slinging cancer-causing processed meat made from cows' livers and pigs' snouts, the Oscar Mayer NotDogMobile would dish up the delicious veggie dogs that today's diners want," Newkirk said. "PETA would relish the opportunity to help Oscar Mayer ketchup with the booming vegan food market."
According to Newkirk, 79% of Gen Zers don't eat meat at least one day a week, while 65% want to follow a more plant-based diet overall.
PETA ROASTED OVER 'DERANGED' THANKSGIVING TWEETS: 'NOBODY TAKES THESE PEOPLE SERIOUSLY'
Newkirk stated another "excellent reason" to consider at least one veggie dog mobile is that more animals' lives would be spared by promoting "tasty vegan dogs," which would result in the company winning a spot in "all compassionate hearts."
"Pigs, cows, and other animals commonly used for hot dogs are intelligent, sensitive individuals who feel pain and form strong bonds with others," Newkirk wrote while advocating for her recommendation.
She concluded her letter by stating the ultimate goal is for everyone to understand they now have various food options if they want to pursue a vegan diet – whether it be for ethical, environmental, health, religious or other reasons.
Abrams-Rivera, Kraft Heinz and Oscar Mayer have not yet responded to the offer.