Nikki Haley announces 2024 Republican presidential bid
Nikki Haley, the former South Carolina governor and ambassador to the United Nations under former President Donald Trump, has officially entered the 2024 presidential race. 
On Tuesday, the 51-year-old Haley became the first Republican to officially challenge Trump for the GOP nomination — sharing a campaign video on social media. 
Haley is the first in a long line of Republicans who are expected to launch 2024 campaigns in the coming months. Likely rivals include Sen. Tim Scott, a fellow South Carolinian and perhaps the most celebrated elected official in a state where Trump has already locked up endorsements from the governor and its senior senator, Lindsey Graham. Florida Gov. Ron DeSantis and former Vice President Mike Pence could also be formidable foes should they run, as widely expected.
President Joe Biden has said he intends to seek reelection in 2024, stalling any jostling for the Democratic nomination.
Haley has regularly boasted about her track record of defying political expectations, saying, "I've never lost an election, and I'm not going to start now."
If elected, Haley would be the nation's first female president and the first U.S. president of Indian descent.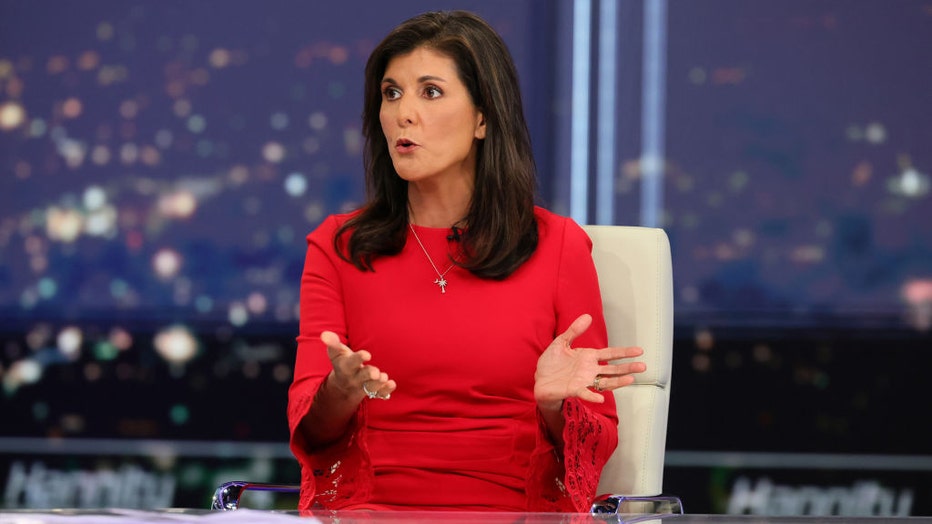 FILE - Nikki Haley visits "Hannity" at Fox News Channel Studios on Jan. 20, 2023, in New York City. (Photo by Theo Wargo/Getty Images)
The daughter of Indian immigrants, Haley grew up enduring racist taunts in a small South Carolina town and has long referenced that impact on her personal and political arc.
"I was the proud daughter of Indian immigrants — not Black, not white. I was different," she says in the presidential campaign video.
"My mom would always say your job is not to focus on the differences but the similarities, and my parents reminded me and my siblings every day how blessed we were to live in America," Haley adds in the video. 
She was an accountant when she launched her first bid for public office, defeating the longest-serving member of the South Carolina House in 2004. Three terms later and with little statewide recognition, Haley mounted a long-shot campaign for governor against a large field of experienced politicians.
She racked up a number of high-profile endorsements, including from the sitting South Carolina governor, Mark Sanford, and former Alaska Gov. Sarah Palin, a tea party darling.
With her 2010 victory, Haley became South Carolina's first female and minority governor — and the nation's youngest at 38. She earned a speaking slot at the 2012 Republican National Convention and gave the GOP response to President Barack Obama's State of the Union in 2016.
"Republicans have lost the popular vote in seven out of the last eight presidential elections. That has to change," Haley said in the video announcement announcing her candidacy for president. 
Haley added that Biden's record is "abysmal." She accused those in Washington of failing Americans, vowing to "rediscover fiscal responsibility, secure our border, and strengthen our country, our pride, and our purpose."
The Associated Press contributed to this story.