MN lawmakers' to-do list is long, time is running short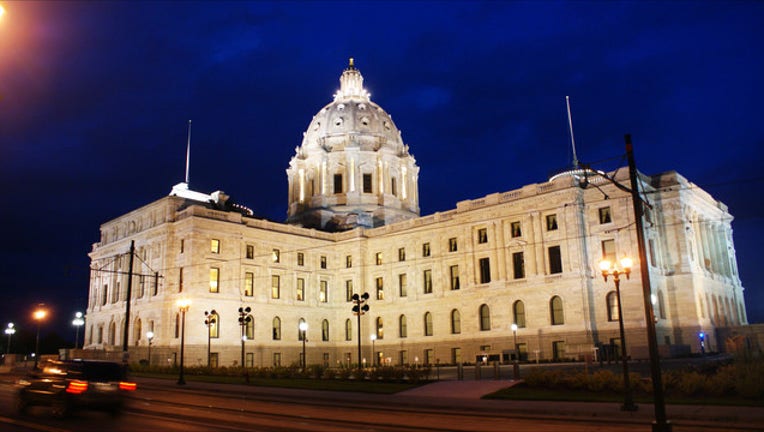 article
ST. PAUL, Minn. (AP) - Just like they started the session, Minnesota's Legislature is entering the homestretch with a long to-do list. But now they have only a week to finish it. 
 
Republicans who control the Legislature and Gov. Mark Dayton are at odds on how to restructure Minnesota's tax code, how to change health care programs and whether to tap an overflowing stadium fund. But outside of the May 21 deadline, there's not much pressure to get things done. The Legislature already passed a two-year budget last year, and lawmakers could leave the Capitol without passing another bill. 
 
Here's a look at what state lawmakers are working on, and where they're still far apart. 
 
TAXES 
 
The central focus of the legislative session is on taxes, a byproduct of federal tax cuts passed late last year. 
 
But Republicans in the House and Senate still need to work out their own differences on how to restructure Minnesota's tax code, including a pair of Senate proposals that would trigger automatic income tax cuts when the state has a surplus and would exempt wealthy estate owners from more taxes. And then they need to tackle a mountain of differences with Dayton, who is pushing to give much of the extra money to working families while leaving many businesses with a higher tax burden. 
 
Lawmakers are feeling the heat to get it done this year to avoid a logistical nightmare for tax filers next year. Senate Majority Leader Paul Gazelka said he aims to wrap it up this week, but also thinks the Legislature could finish it up quickly early next year. 
 
State tax regulators say they need a bill this year to prepare for next year's tax filing season. 
 
SEXUAL HARASSMENT 
An effort to revamp Minnesota's sexual harassment law is in limbo. 
 
The state's sexual harassment policies were in the spotlight heading into the legislative session after two male lawmakers were forced to resign amid a slew of sexual misconduct allegations. The House and Senate have retooled their own reporting procedures and policies internally. 
 
The House has voted to make it easier to prosecute sexual harassment by removing a legal standard that it must be "severe or pervasive," but that has stalled in the Senate. GOP Sen. Karin Housley has said the move has prompted concern from businesses and local governments. 
 
It could still crop up in a final bill. 
 
OPIOIDS 
 
Dayton and lawmakers agree fighting opioid addiction is a top priority. They just can't agree on how to pay for it. 
 
The Senate passed its bill Thursday that would levy $20 million in annual fees on pharmaceutical companies to fund treatment and prevention efforts. Dayton, too, has made the case that drug manufacturers should pay. 
 
"These companies amassed a fortune off the opioid epidemic," said Sen. Julie Rosen, the Vernon Center Republican who wrote the bill. 
 
But Republicans in the House aren't eager to hit drug companies with higher taxes, which they argue would be passed on to consumers. Their proposal would instead pull $14 million from a projected $329 million budget surplus. 
 
GOVERNMENT SPENDING 
 
It's not a budget year but lawmakers are still retouching state agency funding. 
 
Dayton is pressing for $138 million in emergency funding for public schools suffering budget shortfalls. Meanwhile, Republicans in the House have proposed cuts across state agencies, including at the Department of Revenue and the Department of Human Rights. 
 
And funding to continue fixing the state's problematic driver's registration system is on the line. Both the House and Senate have proposed giving the state just a fraction of what it says it needs to fix MNLARS. 
 
BONDING 
 
Public works packages always come down to the wire at the Legislature, and this year is no exception. 
 
Republicans in the House and Senate have both proposed $825 million bonding bills, which Dayton dismissed as "woefully inadequate." Dayton's proposal is nearly twice the size, which Republicans called bloated. 
 
But the projects that these bills build are politically popular, especially in election years. The two sides could quickly strike a deal before next Monday. 
 
HEALTH CARE 
 
Dayton and Republicans are going head to head over broad changes to public health care programs. 
 
The Democratic governor wants to expand MinnesotaCare with a so-called public option, allowing anyone to buy into the state's program for the working poor. On the opposite end of the political spectrum, Republicans are pushing to impose work requirements on most recipients of Medical Assistance, the low-income health care program, saying it will help encourage more work and lift people out of poverty. 
 
Both sides deride each other's proposals as non-starters. Without much time left, a resolution is unlikely. 
 
STADIUM FUND 
 
Another legislative session is another chance for the Vikings' stadium to be in the headlines. 
 
Due largely to a rise in gambling and an unexpected surge in the popularity of electronic pulltabs, the state fund that pays for the stadium is poised to overflow, with a $120 million surplus projected by 2020. House Republicans want to repurpose some of that money to build three veterans homes across Minnesota. 
 
"It's a huge disservice to squirrel away these general fund dollars that the taxpayers of Minnesota have paid," said Rep. Sarah Anderson, R-Plymouth. 
 
Dayton isn't buying it, saying that money shouldn't be spent yet. And neither are Republicans in the Senate -- Gazelka was skeptical of that approach, and the Senate has instead proposed funding those veterans homes through a borrowing package. 
 
CONSTITUTIONAL AMENDMENT 
 
Lawmakers and transportation advocates geared up for a constitutional amendment this year to dedicate some tax revenues on car parts and rentals to infrastructure repairs. But that is in jeopardy. 
 
The full House may vote on the measure later this week, but the Senate isn't on the same page. Gazelka said he's having trouble getting enough votes in the narrowly divided chamber to pass. 
 
Dayton doesn't have a say -- constitutional amendments head straight to the ballot once passed by the Legislature. 
 
HANDS FREE 
 
Lawmakers in the House and the families of victims killed by distracted drivers are making a late push for "hands free" cell phone laws. 
 
The House may vote later this week to make it illegal for drivers to use their electronic devices by hand while driving. Texting and web browsing is already illegal for Minnesota motorists, but supporters of the bill argue it will further reduce distracted driver crashes. 
 
But efforts in the Senate are at a standstill. Gazelka has said the issue may wait another year, but on Thursday said he was neutral on the proposal and didn't rule out a late vote.