Man loses nearly 400 pounds, keeping promise to grandmother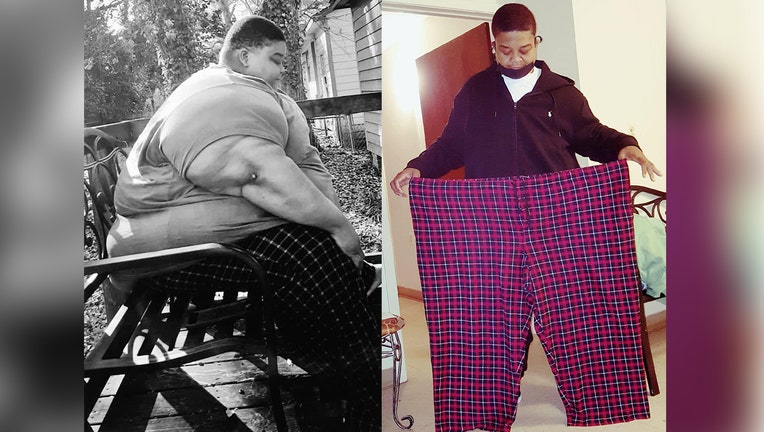 article
HATTIESBURG, Miss. - The most Nicholas Craft ever weighed was 649 pounds. He said he was miserable, in pain and out of breath. 
Doctors told him he was "like a ticking-time bomb."
"Depression lead me to overeat, and couldn't get around like I should," the Mississippi native told FOX Television Stations. 
RELATED: Keto diets could increase risk of heart attack and stroke, says new study
Craft started his weight loss journey in June 2019 and said he lost more than 365 pounds in four years. 
Nicholas Craft before, during and after his weight loss journey.  (Nicholas Craft )
"What made me start my journey was I wanted to live longer," he continued. 
Craft said he immediately quit unhealthy and carb-loaded foods such as fried foods, breads, sodas, pasta and rice. 
But Craft said another big motivation to lose weight was his grandmother. 
RELATED: Can't take statins? New pill cuts cholesterol, heart attacks: study
"My grandmother also made me want to change," he explained. "She wanted to see me more often, and I promised her I would lose this weight. That way, I could come see her more often."
Craft said he no longer gets short-winded and deals with much less pain. He also said he doesn't have to worry about fitting into a particular type of vehicle. 
"My message to people message is if you believe, you can achieve," he said.  "You can do anything if you put your mind to it. Be consistent and trust the process."
According to the National Institutes of Health, more than two in five U.S. adults (42.4%) have obesity. Almost one in five children and adolescents ages 2 to 19 (19.3%) have obesity.
Obesity — which means not merely overweight, but seriously overweight — is one of the nation's leading public health problems. Adult obesity also has been trending upward, but childhood obesity is especially worrisome because it can put kids on track for problems like diabetes and heart disease.
A range of factors contribute to childhood obesity, including eating a lot of processed foods and sugary beverages, and a lack of physical exercise.
The Associated Press contributed to this report. This story was reported from Los Angeles.