Minnesotan who lost eyesight and leg now helps wounded Ukrainian soldiers
EDINA, Minn. (FOX 9) - The Ukrainian soldiers who come to Minnesota to be fitted with prosthetic limbs have been through brutal combat and face a long road to recovery. Learning basic movements like walking or bending down with a prosthetic limb can take months or even years to master. 
In that journey, they have an unlikely source of inspiration: Kierstin Nelson, a 33-year-old woman from Eden Prairie, Minnesota. She may never have seen the inside of a trench, but she knows a thing a two about adjusting to sudden life setbacks. About four and a half years ago, she became ill with a rare bacterial infection that had devastating consequences: doctors had to amputate her left leg up to the knee, and then further complications resulted in the loss of her eyesight. 
Nelson is now a blind amputee, but she lives a full life. She founded and leads a church group for people with disabilities and volunteers with the Protez Foundation to help the soldiers who come to Minnesota to receive prosthetic care. 
Every week, she attends their physical therapy classes — modeling for them how to do specific movements, and encouraging them when they try. With the help of a translator, she answers questions about how she adjusted to the loss of her leg and navigating life as an amputee.
"I can answer questions from the patient's perspective. I show them how to do certain things or just encourage them," she said. "And then also just have one on one time with them to hear what happened to them and share what happened to me…  we can meet on that heart-to-heart level and talk about our different experiences and help each other through them."
Her connection to the soldiers stems from her own treatment. The prosthetic specialist who fit her prosthetic and guided her recovery is Dr. Yakov Gradinar, the Ukrainian physician who founded Protez. He says after meeting Nelson for the first time, the soldiers often comment on how positive she is, and how much she is able to do — which shows why she is important to the foundation's work.
"She shows them that another person, even with a worse medical outcome after her incident, is still being positive and trying to make the best out of it," Gardiner said
Roman, one of the soldiers she worked with, added: "She and her parents do not lose heart, but move forward: her mother and father bring Kierstin to the hall, and she practices exercises with us. And this is the main thing. Do not stop, but move forward, live," he wrote in a Telegram message after returning to Ukraine. 
Nelson credits Gradiner with playing an important role in her treatment, and she was quick to volunteer for his foundation once the soldiers started arriving in Minnesota last August. 
"He really changed my life when this happened to me, and I loved the opportunity to pay it forward and help all of these soldiers with their new journey in life and help them see that life may be different now, but it doesn't have to necessarily not be better. It can be better in a lot of ways," she said. 
No longer viable
The events leading up to her losing part of her leg began in April 2018. At the time, Nelson lived alone in an apartment not far from her parent's place in Eden Prairie. She had been feeling ill for a few days. Normally a self-described "high energy" person, she felt fatigued, and her left leg had started to swell — but doctors had run tests and could not reach a diagnosis. 
Her mother suggested she stay with her and her dad for a few days, and Nelson agreed — a decision that may have saved her life. The following day, she was in her parents' kitchen when she collapsed. 
At the hospital, doctors had to bring her into surgery to relieve the swelling in her leg, and discovered much of the tissue there was no longer viable. They determined she had necrotizing fasciitis, a "flesh-eating" bacterial infection that would kill her if it reached her abdomen. 
Necrotizing fasciitis can be caused when the bacteria enter the body via cuts or scratches, though in Nelson's case, doctors did not find an entrance wound. 
Nelson underwent about 25 surgeries, with doctors working to save as much of the leg as possible. Dr. Gradinar worked closely with the surgeons, instructing them that he needed four centimeters of a femur to give her a functioning knee to walk.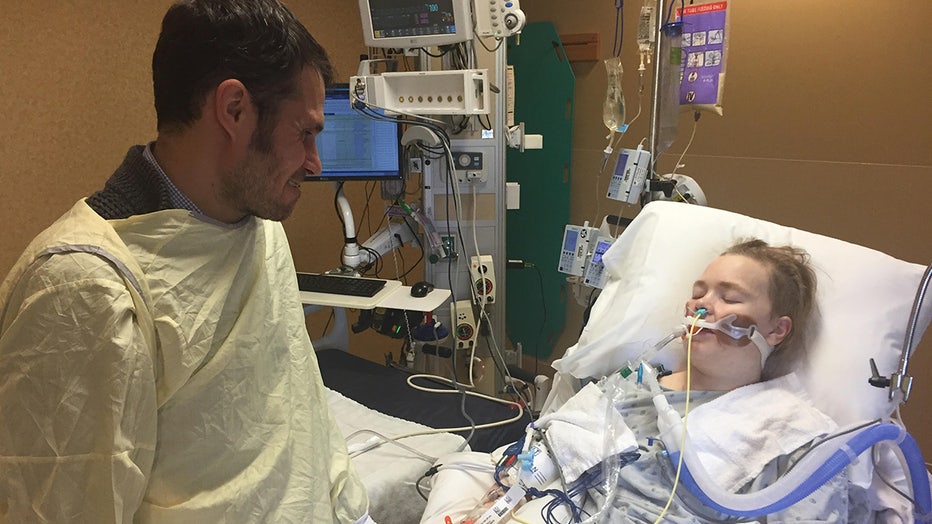 Dr. Yakov Gradinar, the Ukrainian physician who founded the Protez Foundation, with Kierstin Nelson sometime after her first surgery. (Image provided by the Nelson family).
Her parents wanted to be the first to tell her what had happened. They were at her bedside when she woke up, and explained they had made a decision on her behalf, giving doctors permission to amputate her leg to save her life. 
At the time, Nelson responded: "I'm so sorry that you had to make that decision for me. I can't imagine how hard that was."
She then paused a moment, and said, "So I have to learn to walk again. Big deal."
'It was my eyes that were dark'
Nelson's medical ordeal was not over yet. The trauma of the infection and the surgeries took a toll on her body. Tests indicated her kidney function was declining. Doctors decided to perform a biopsy of her kidney, but the surgery resulted in internal bleeding, so they kept her in the hospital overnight. 
In the middle of the night, Nelson stopped breathing.  Her mother called for help. Nurses had to use a defibrillator to get her heart to start beating again. 
Doctors told her parents Nelson might not walk or talk again because they didn't know how long she had been without oxygen to the brain. She slipped into a comma. 
Her father was in the room with her when she woke up 21 days later. She remembers asking him to open the window blinds, and his response:''Honey, they are open."
"In that moment, the gravity of the situation hit me, and I was like, 'Oh, I can't see that they're open.' It was my eyes that were dark, not the room," she said. 
She would undergo intensive rehab for the next year and a half and be fitted with her first prosthetic leg in February 2019. The process was slow, from developing a baseline of strength and endurance to learning to stand and walk independently. She credits her faith and her family with helping her stay the course. She still goes to physical therapy twice a week. 
"I want to push the boundaries of what I can do," she said.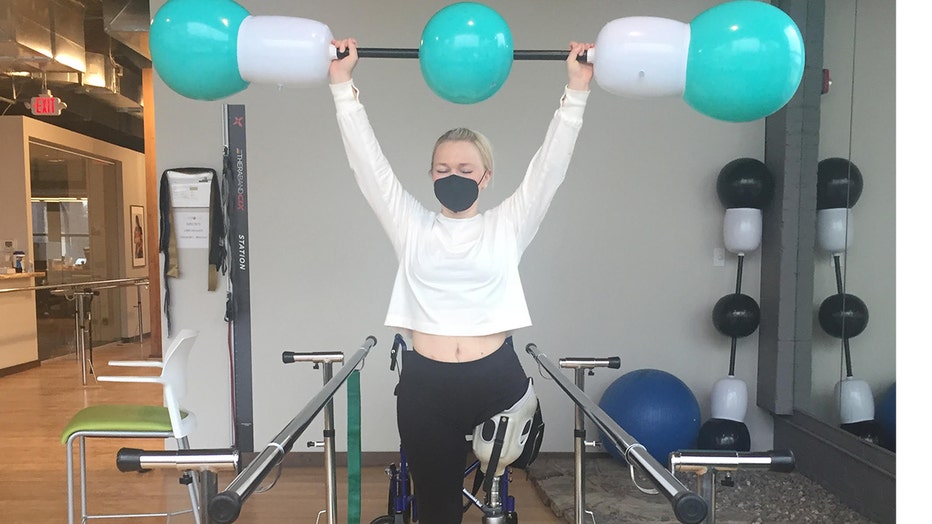 Kierstin Nelson during her rehabilitation process. (Photo provided by the Nelson family).
Hardest trial 
Today, Nelson is known to the soldiers she works with as a role model for adapting to their new modalities. In her current work, while she may inspire the Ukrainian soldiers, she is also inspired by them — particularly their determination to return to help their country.
"It's incredible, they've personally just experienced this huge trauma, which anybody could say, 'It's just too much" and give up, right?  And they're like, 'OK, this is nothing to me. I need to get back and help any way I can.'"
Looking back on her own ordeal now, she can find a silver lining. 
"It's been the hardest trial I've ever gone through. But I got to do it with the people I love most," she said.