Minnesota teacher resigns over 'kill Kavanaugh' post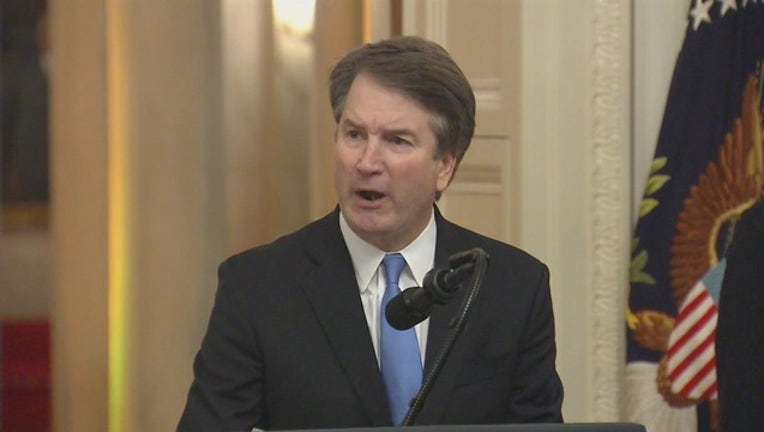 article
ROSEMOUNT, Minn. (KMSP) - A Minnesota teacher has resigned from her post while the district investigates complaints over a Twitter post in which she allegedly references killing U.S. Supreme Court Justice Brett Kavanaugh. She was placed on leave when the tweet first surfaced.
"So whose gonna take one for the team and kill Kavanaugh," reads the tweet, posted on the evening of Saturday, Oct. 6 from a now-suspended account.
On Tuesday, Independent School District 917 Superintendent Mark A. Zuzek said the teacher voluntarily resigned and is no longer employed by the district.
"On Sunday, October 7, 2018, the district began receiving complaints regarding an employee," Zuzek said in a statement. "The actions of the employee did not occur at school, and there were no school devices, equipment, or other school staff involved in the actions.  At no time were students or staff in danger.  The employee was placed on paid administrative leave and an investigation conducted."
Pursuant with the data practices act, Zuzek said the district is "limited to providing additional information regarding this matter."
Kavanaugh was confirmed by the Senate on Saturday by a 50-48 vote. He was quickly sworn-in "so that he can begin to participate in the work of the Court immediately," according to the statement from the Supreme Court.
The Kavanaugh vote was the most narrow Senate confirmation since 1881. The Supreme Court just began a new session Oct. 1 and has four hearings this week. 
Kavanaugh's confirmation followed weeks of debate and testimony over allegations from at least three women who say Kavanaugh sexually assaulted them in high school and college. The findings of an FBI investigation into the allegations were given to senators before the final vote, yet the findings reportedly show no evidence corroborating allegations of sexual misconduct. Kavanaugh and his primary accuser, Dr. Christine Blasey Ford, were not interviewed by the FBI.