Public safety concerns prompt Minneapolis one-sided parking enforcement
MINNEAPOLIS (FOX 9) - The city of Minneapolis will enforce one-sided street parking starting Thursday on streets that aren't snow emergency routes.
The streets are shrinking with every new snow event, so it's becoming hazardous for just about anyone to drive them, but it's especially problematic when fire trucks, ambulances, and school buses can't make it through.
Cars struggled to parallel park or even just access neighborhood roads. Firefighters tell us they've lost time on a few calls recently because their trucks can't navigate some streets. So their chief advocated for one-sided parking.
"The amount of snow that we've had, combined with two-sided parking, has made many of these side streets impassable for our fire rigs," said Minneapolis Fire Chief Bryan Tyner.
The city's new rules take effect Thursday night. You can't park on the even-numbered side of the street at all except on snow emergency routes. Some neighborhoods will have signage indicating even tougher restrictions. Those rules will stay in effect until April 1 unless warmer weather comes and helps widen roads.
"It sucks," said Minneapolis Como resident Brian Lutz as he laughed. "Yeah, it's going to be a circus."
Lutz struggles to walk to his car as it is, but now he'll be competing for parking with twice as many cars in an already crowded neighborhood.
"As long as I can get on the other side of the street I'll be all right," he said. "But if I end up way down there or way up here, I can always call a cab come to pick me up to take me over here.
An icy windshield took up a chunk of Oscar Nevermann's day Wednesday, but by Thursday night his biggest time eater may be finding a parking spot.
"I guess I'm going to have to adapt," said the University of Minnesota medical student. "At the end of the day, there's a good reason for it."
City leaders understand the new rules are inconvenient. The last time the city implemented one-sided street parking was in late February 2019, but they say public safety demands it. And they're leaving it up to residents and businesses to figure it out.
"I would say that we do not have a specific plan for people, but people should work with their neighbors on this," said Minneapolis Public Works Director Margaret Anderson Kelliher.
Ticketing and towing in Minneapolis starts after 9 p.m. on Thursday.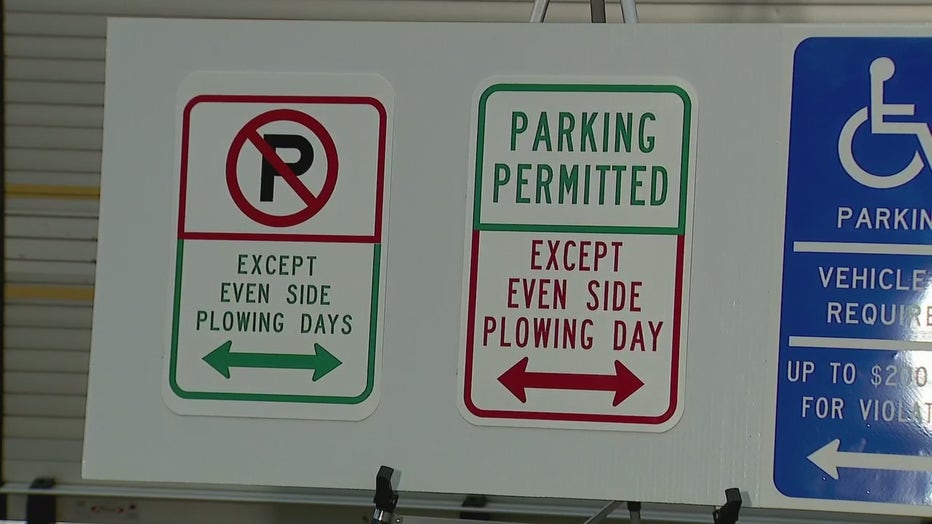 The City of Minneapolis announced one-sided parking on city streets due to significant snow this winter. 
St. Paul does not declare one-sided parking
In a news release on Wednesday, the City of St. Paul said it is not declaring a one-sided parking ban at this time. 
"Our streets are snow-packed and narrowing; however, St. Paul Public Works continues to closely monitor them and work to keep our arterial streets clear in the drive lanes and widen our residential streets to keep them safe and passible," the city said. 
Sean Kershaw, the St. Paul Public Works Director, said the city doesn't need a one-sided parking ban "yet." 
"We continue to work on the residential streets to keep them safe and passible for our emergency vehicles and school buses. The recent snow emergency declaration gave us some needed width on our streets in many areas, but also exposed the ice pack which has other challenges for all types of mobility on our streets," Kershaw said.