Minneapolis Park Police: Juvenile sexually assaulted at Powderhorn Park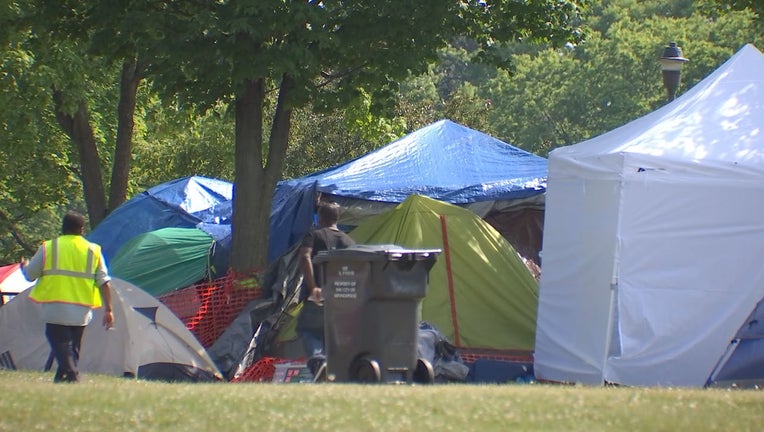 article
MINNEAPOLIS (FOX 9) - Minneapolis Park Police says a juvenile was sexually assaulted at Powderhorn Park overnight Thursday.
According to the Park Police, they were notified by Abbott Northwestern Hospital early Friday morning that a juvenile victim was sexually assaulted at the park overnight.
Individuals from the park brought the victim to the hospital after the incident.
The sexual assault is under investigation and anyone with information about it is asked to call 911.
It's been just over two weeks since the tent encampment has taken shape on the east and west side of Powderhorn Park, made up of those experiencing homelessness.
"Community response, not government response, we don't have any government help in this situation," said community advocate Sheila Delaney.
Residents and volunteers have been organizing things at the park, even running their own security operation. But, Thursday night, it wasn't enough.
"The conditions that allowed for the assault to happen are everywhere in our culture and if you're looking at a situation where people are vulnerable in tents of course the vulnerability is amplified," said Delaney.
While it's not clear if the victim had been staying at the camp, it's concerning for the community.
"I think it's sad and I think it's a tragedy because I think we keep forgetting there is a reason a lot of them are in the park," said Lisa Clemons with A Mother's Touch. "And those are addiction issues so we have not addressed addiction issues we have not addressed housing issues and as a result we have a minor child who was sexually assaulted in that very park."
There are calls for help to find a long-term housing solution.
"It's not maybe the best situation but we try to make it as safe as possible here," said Commissioner Londel French with the Minneapolis park board.
Commissioner French has been out patrolling the camps overnight; he says the board is not equipped to handle it all.
"If I had control of billion dollar budgets, yeah help would be on the way," he said. "But I have control over -- me and eight other people have control over a park board budget that wasn't meant to address the problem of homelessness."
Advocates helping on the ground echo that and say they can't do this alone.
"We know the government can do a lot when it wants to and I'm not seeing it here," said Delaney.