Mindful Moms program helps pregnant women struggling with anxiety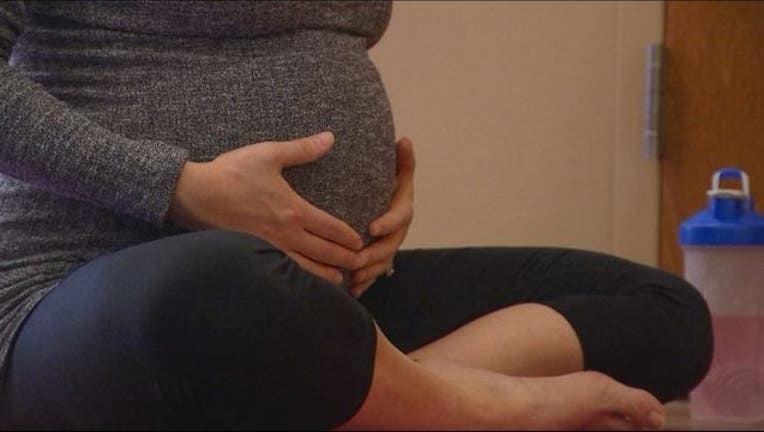 article
MINNEAPOLIS (KMSP) - Abby Johnson is juggling three young boys at home in Saint Cloud, and is currently 23 weeks pregnant with triplets. Her anxiety has tripled.
"Thoughts in my head would keep racing, and I wasn't able to sleep," said Johnson. "We're pregnant and not sleeping and we are nauseous and we are still expected to  do our normal daily routine. If we have other kids or are working."
Ashley Gust has five kids at home, including an eight-month-old baby. Last week, she found out she's expecting twins.
"It's my first time being pregnant and not wanting to shout it from the roof tops," said Gust.
"If you are experiencing anxiety, if you are experiencing low mood, if you are not sleeping, you need to reach out to your supports, said Dr. Elizabeth LaRusso, a psychiatrist with Allina Health Mental Health.
Through the six-week Mindful Moms program located at Abbot Northwestern's Penny George Institute Clinic, moms take part in yoga, acupuncture, and other holistic approaches to deal with anxiety. They also meet individually with a perinatal psychiatrist. Dr. LaRusso points out roughly 20 percent of women experience some sort of depressive symptom during or after pregnancy. Anxiety has been studied much less, but estimates are still between 10-13 percent.
"What's unfortunate about our society is there is decrease in the amount of psycho social supports, while there is an increase in what's asked of them," said Dr. LaRusson. "Working, taking care of kids, all the things they feel they need to do to feel like they are having an optimal healthy pregnancy."
               
If anxiety or depression is left untreated, research shows babies can be born more reactive to stress and mom's risks of postpartum increase. That can only adds to the worry, which is why these moms taking care of themselves is the best thing they can do for baby.
               
"Pregnancy is not always glowing and a beautiful and baby kicks," said Gust. "Sometimes it's rough. It's nice to have that supportive group to do that."
For more information: http://wellness.allinahealth.org/events/53599