Metro Transit investigating 2nd bus driver assault in 2 weeks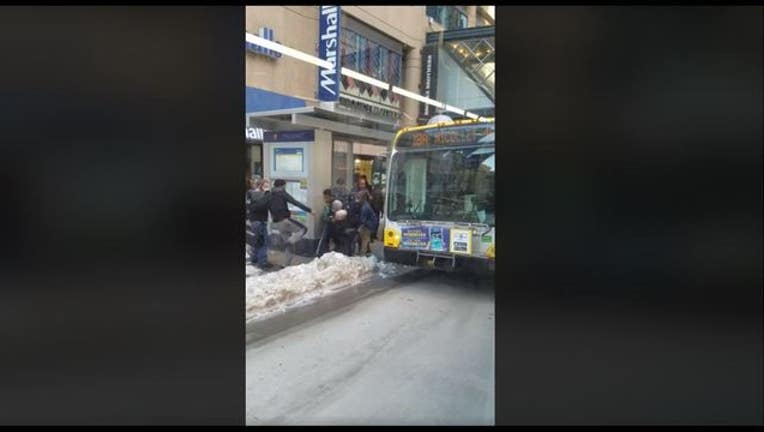 article
MINNEAPOLIS (KMSP) - Metro Transit is investigating a physical altercation between passengers and a bus driver that occurred at a bus stop in downtown Minneapolis Thursday evening, spokesperson Howie Padilla confirmed. It is the second such incident to occur in the last two weeks. 
The incident happened at the stop on the corner of Nicollet Mall and South 7th Street. According to a witness, who posted a video of the incident on Facebeook, the fight took place on the southbound 18A route around 6:50 p.m. 
(Warning: Video contains graphic content) 
Padilla said Metro Transit is aware of the video and is "trying to determine what led up to that moment." 
The bus driver was treated at a nearby hospital and released. No suspects have been identified. 
The incident follows the assault of another Metro Transit bus driver last week. 
Sterling Smith, 26, was charged with third-degree assault for attacking a bus driver on April 10. Prior to the assault, the driver had asked three women who got on his bus to stop swearing. When one of the women became uncooperative, he called police. 
The woman was on the phone with her boyfriend, Smith, and told him which bus she was on. Smith arrived at the bus, escorted his girlfriend off, and got back on. He asked the driver, "you wanna go?" and began hitting him in the head. 
The driver had a cut to his right eye and scrapes on his forehead. He reportedly also suffered from double vision for several days.
There have already been more serious assaults on Metro Transit drivers this year than there were in 2017. Padilla said only one felony assault was recorded last year.