Minnesota lawmakers in and near the U.S. Capitol as it was breached describe experience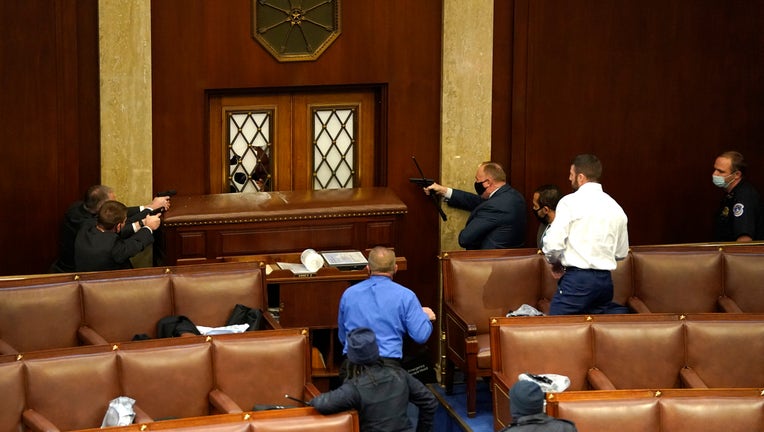 article
WASHINGTON, D.C. (FOX 9) - Minnesota lawmakers in and near the U.S. Capitol as it was breached describe experience
Congressman Tom Emmer and Congressman Dean Phillips were on the floor of the House of Representatives when the U.S. Capitol was breached by rioters on Tuesday afternoon.
"The first reaction was this cannot be happening in the United States of America, at our nation's capital," Congressman Phillips said.
Phillips said he was aware protesters were outside of the Capitol building on Tuesday holding a demonstration but didn't know until proceedings stopped on the House floor that rioters had gotten into the Capitol building.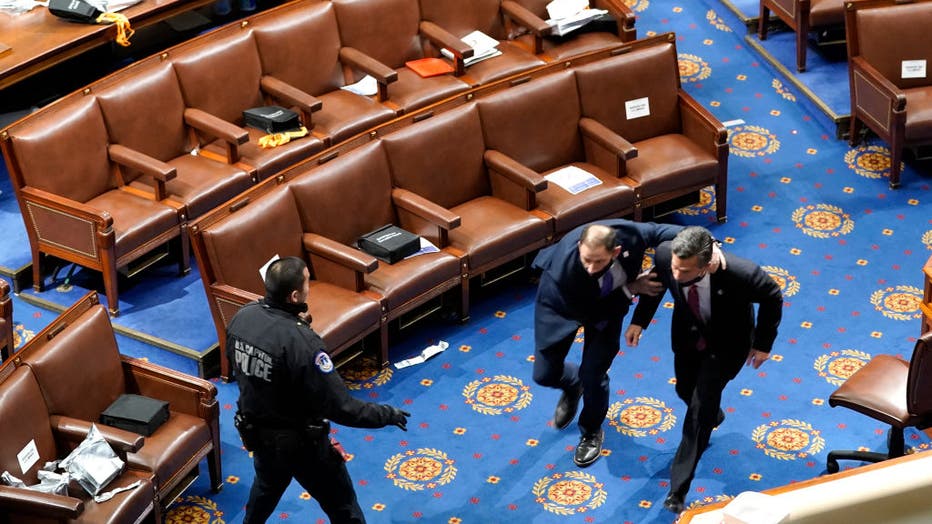 WASHINGTON, DC - JANUARY 06: Members of congress run for cover as protesters try to enter the House Chamber during a joint session of Congress on January 06, 2021 in Washington, DC. Congress held a joint session today to ratify President-elect Joe Bi
"The proceedings stopped abruptly and the Capitol police announced that we had to take cover and open our gas masks which are located under every seat on the house floor and moments later we started hearing noise and disruptions and eventually the capitol police implored that we flee because the chamber was about to be broached and we did. So we literally ran out of the chamber through the myriad of hallways and pathways through the capitol," Phillips said. "As we were running through the hallways there was some smoke some screams a lot of commotion."
Congresswoman Angie Craig said she had left the Capitol building by the time rioters had breached the building.
"I had just left the house gallery where I was when we kicked off the certification of the electoral college this morning and had been back off the grounds for just a little while when is started getting texts that I had to shelter in place so we got to safe space and we're currently sheltering in place on capitol grounds and being protected by capitol police the best we can," Craig said in a phone interview with Fox9 on Tuesday afternoon.
Congresswoman McCollum says she was escorting a new fellow in her office out through one of the tunnels at the Capitol so she could get home safely for the day when she heard news of the security breach.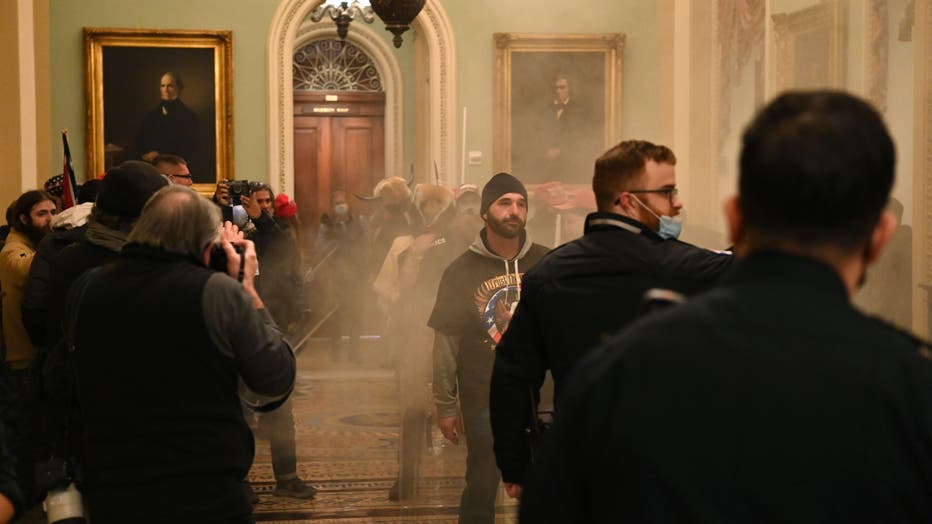 Supporters of US President Donald Trump enter the US Capitol as smoke fills the corridor on January 6, 2021, in Washington, DC. There are no reports of tear gas being used at the Capitol. - Demonstrators breached security and entered the Capitol as C (Getty Images)
"Capitol police came and found me and told me that the Capitol had in fact been breached and we had a lockdown. I locked down in a Senate office and then checked in with my staff in my house office to make sure they were fine," McCollum said.
Lawmakers are questioning how the security breach was possible at the Capitol on a day where law enforcement knew there would be a large group of protesters present.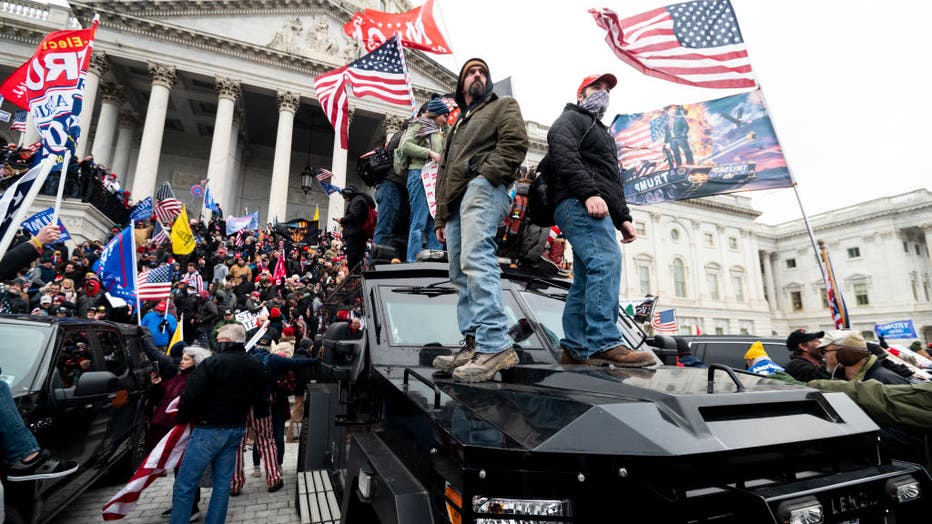 UNITED STATES - JANUARY 6: Trump supporters stand on the U.S. Capitol Police armored vehicle as others take over the steps of the Capitol on Wednesday, Jan. 6, 2021, as the Congress works to certify the electoral college votes. (Photo By Bill Clark/C
"It was clear by what happened today that they were too few [police] in numbers, that the institution was ill prepared and we will have to litigate that as we move forward because this cannot happen again. It must not,"
Phillips said.
"From a planning purpose has been an absolute failure. This should have never have happened," Craig said.
Some lawmakers are also questioning what message the security breach sends to adversaries across the world.
"We were looked up to as the people who knew how to do things with civility, the country that could be a beacon of democracy and Russian and China must me laughing at us right now," McCullum said.
FOX 9 requested to speak with all Congressional members from Minnesota. The offices of Congressman Tom Emmer, Congrassman Jim Hagedorn, Congressman Pete Stauber, Congresswoman Ilhan Omar and Congresswoman Michelle Fischbach either did not respond to our request for comment or declined to be involved in an interview.
Minnesota's Governor makes a statement
Gov. Tim Walz and Lt. Gov. Peggy Flanagan both issued statements about Wednesday's incidents. 
In his, Walz put the incident in historical perspective, saying, in part, "History is being written today. What will our future students read about this moment in their textbooks? It's on us to ensure today is the end of a chapter. And marks the beginning of when America stood up and stood together."
Flanagan juxtaposed the democratically-held election in Georgia from Tuesday night to the democracy-threatening circumstances of Wednesday. She also expressed her dismay that rioters were seen carrying Confederate flags in the halls of Congress. 
She also pointed out the double standard in the way law enforcement reacted to the Wednesday riots when compared to the Black Lives Matter protests of last summer. 
"I am also horrified by hypocrisy of the rioters in D.C. meeting little resistance by law enforcement as they stormed the Capitol today when compared to the force shown during the Black Lives Matter protests at the White House this summer. We must name this double standard and work to dismantle it if we want to restore faith in our government systems," she said.