McConnell rejects emergency session for impeachment trial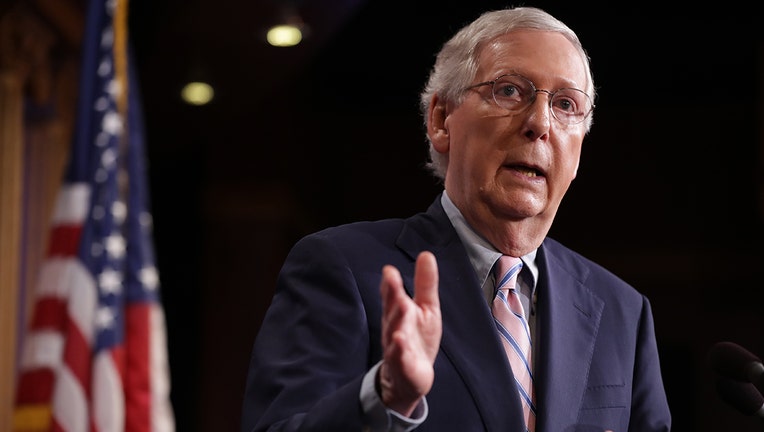 article
WASHINGTON - If the House impeaches President Donald Trump, a Senate trial on whether to convict him of inciting insurrection seems all but certain to have to wait until President-elect Joe Biden is inaugurated.
That's the word from a spokesman for Senate Majority Leader Mitch McConnell. The spokesman says aides to the Kentucky Republican have told Senate Minority Leader Chuck Schumer's staff that McConnell won't agree to invoke powers calling senators into emergency session.
That means the Senate almost certainly won't meet again until Jan. 19. That's the day before Biden's inauguration.
RELATED: President Trump's Republican wall eroding ahead of impeachment vote
The House is set to vote later Wednesday on impeaching Trump, accusing him of rallying a violent mob of supporters to attack the Capitol last week.
While Trump's first impeachment in 2019 brought no Republican votes in the House, a small but significant number of leaders and lawmakers are breaking with the party to join Democrats, saying Trump violated his oath to protect and defend U.S. democracy.
Trump, who would become the only U.S. president twice impeached, faces a single charge of "incitement of insurrection."
The four-page impeachment resolution relies on Trump's own incendiary rhetoric and the falsehoods he spread about Biden's election victory, including at a White House rally on the day of the Jan. 6 attack on the Capitol, in building its case for high crimes and misdemeanors as demanded in the Constitution.
Trump took no responsibility for the riot, suggesting it was the drive to oust him rather than his actions around the bloody riot that was dividing the country.
"To continue on this path, I think it's causing tremendous danger to our country, and it's causing tremendous anger," Trump said Tuesday, his first remarks to reporters since last week's violence.
RELATED: National Guard troops sleep on Capitol floor as House nears Trump impeachment vote
A Capitol police officer died from injuries suffered in the riot, and police shot and killed a woman during the siege. Three other people died in what authorities said were medical emergencies. Lawmakers had to scramble for safety and hide as rioters took control of the Capitol, delaying by hours the tally of Electoral College votes that was the last step in finalizing Biden's victory.
The outgoing president offered no condolences for those dead or injured, only saying, "I want no violence."
At least five Republican lawmakers, including third-ranking House GOP leader Liz Cheney of Wyoming, were unswayed by the president's logic. The Republicans announced they would vote to impeach Trump, cleaving the Republican leadership, and the party itself.
RELATED: State capitols bolster security after FBI bulletin on nationwide armed protests
"The President of the United States summoned this mob, assembled the mob, and lit the flame of this attack," said Cheney in a statement. "There has never been a greater betrayal by a President of the United States of his office and his oath to the Constitution."
Cheney's father was the vice president under President George W. Bush and a Republican leader in the House. "She knows of what she speaks," said Rep. Steny Hoyer of Maryland, the Democratic majority leader.