Mayor Hodges talks police shootings, city politics on activist's podcast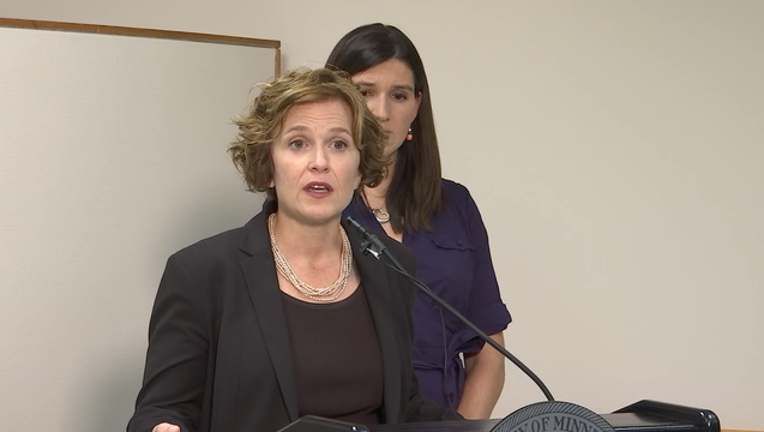 article
Minneapolis Mayor Betsy Hodges joined activist and organizer DeRay Mckesson on the most recent episode of his podcast, Pod Save the People, to talk about recent police shootings and what she's learned over the past year responding to them. 
Released Tuesday, "Stay in Your Lane Sounds a Lot Like Stay in Your Place" also features interviews with former Acting Administrator of the Centers for Medicare and Medicaid Services Andy Slavitt and Golden Globe winning actress Tracee Ellis Ross.
The interview begins with a retrospective on Hodges' four years as mayor, saying she ran to increase racial equity in the city, which ranks near the bottom on almost every metric.
"When I look back at what's happened over the course of the last few years ... there isn't a city in the country or a mayor in the country that's done more to advance the cause of building community trust and public safety," Hodges said. "Equality is everyone gets a pair of shoes, and equity is everyone gets a pair of shoes that fit."
The most recent police shooting in the city features a different dynamic than that of Jamar Clark, with a black officer killing a white woman instead of vice versa. Acknowledging that both incidents are of course different, Hodges says that any changes in her response to them mean she's applying the lessons she learned from the first time around.
Those lessons mean daily communications, through press appearances and social media posts, outlining how she's spending her time and how she feels--things people called for in the wake of Jamar Clark's death.
In the interview, and in a subsequent Facebook post, she said she intends to nominate the acting Chief of Police Medaria Arradondo for the remainder of recently fired Janee Harteau's term, citing the need for consistency of leadership in tough times. The department doesn't investigate its own officer-involved shootings, so despite her position she is operating off the same information as the general public.
Officer Mohamed Noor, who fired the fatal shot, hasn't given a statement to the Bureau of Criminal Apprehension, though city officials and activists have all said they wish he would.
"His partner gave a statement that said, 'Basically we were sitting in the squad in the alley and we heard a loud noise. I saw someone approach, I saw a loud flash and I realized he had shot his gun," Hodges said. "I think we all want answers to those questions to what exactly happened."