Maryland puts Durkin on leave amid football investigation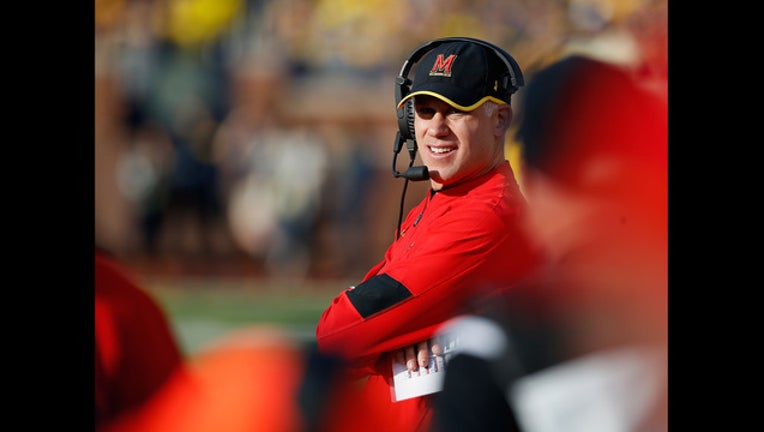 article
Maryland placed head coach DJ Durkin on administrative leave on Saturday while the school scrutinizes allegations of poor behavior by the football staff, apparent misdeeds that came to light following the death of a player on the practice field.
 
   In an open letter, athletic director Damon Evans wrote: "At this time, the best decision for our football program is to place Maryland Head Football Coach DJ Durkin on leave so we can properly review the culture of the program."
 
   Offensive coordinator Matt Canada will serve as interim coach.
 
   Earlier Saturday, the head of the football team's strength and conditioning staff was placed on paid leave while the school investigates claims he verbally abused and humiliated players, according to a person briefed on the situation. The person spoke to The Associated Press on condition of anonymity because Maryland had not announced the decision regarding Rick Court.
 
   Maryland has also placed two athletic training staffers it did not identify on leave as it investigates the death of Jordan McNair. The 19-year-old offensive lineman was hospitalized May 29 after a team workout and died June 13. Dr. Rod Walters, a former college athletic trainer, has been hired by Maryland to investigate the circumstances. A report is expected by Sept. 15. McNair's parents are being represented by Baltimore attorney Bill Murphy, whose firm is also investigating.
 
   In his open letter, Evans wrote: "The external review into the tragic death of Jordan McNair continues, and we have committed to releasing publicly the report being prepared by an independent and national expert."
 
   ESPN reported that head football athletic trainer Wes Robinson and director of athletic training Steve Nordwall were placed on leave by Maryland.
 
   An ESPN story Friday quoted unidentified players, former players and former members of Durkin's staff, who contended Court and Durkin created a toxic culture within the program.
 
   "The safety and well-being of our student-athletes is our highest priority," Evans wrote. "These alleged behaviors are not consistent with the values I expect all of our staff to adhere to and we must do better. 
 
   Durkin is starting his third season at Maryland. The 40-year-old former Michigan defensive coordinator is 11-15 in two seasons after receiving a five-year, contract worth $12.5 million in December 2015.
 
   Durkin brought Court to Maryland to lead the strength and conditioning staff in 2016. Court had been the head strength coach at Mississippi State since 2014 under coach Dan Mullen. Court also worked with Durkin at Bowling Green in 2005 and `06, when Durkin was an assistant.
 
   Mississippi State quarterback Nick Fitzgerald expressed support for Court on Saturday. Fitzgerald's first two seasons with the Bulldogs coincided with Court's time leading the strength program at the school.
 
   "He worked us hard," Fitzgerald told the AP. "They were definitely tough workouts, but ultimately he wasn't out to get anybody. He wasn't out to hurt anyone. His job is to make us physically fit and ready for the season and that's exactly what he did. From what I remember, he never really went over the line or did anything crazy like that."