Made in Minnesota: How Rollerblade founder turned inline skates into wheels of fortune
WACONIA, Minn. (FOX 9) - On a 40-acre farm on the edge of Lake Waconia, there are interesting inventions scattered around the property.
From a bike that can be rowed instead of pedaled called a Rowbike to a device suspended from a track that can be peddled or rowed through the air called Skyride.
The brain behind all these unusual products is the farm's owner Scott Olson.
But his biggest claim to fame is reinventing the wheel and changing the way the world gets on a roll.
"Being the grandfather of Rollerblades has always been a highlight. So even though I don't like to be introduced as the Rollerblade guy. At the same time, I don't like to live in the past, but at the same time I'm still into it," said Olson.
The St. Louis Park native was just 19 years old when he stumbled across his first pair of inline skates while playing junior hockey in Canada in 1979. 
He wanted to be a goalie in the NHL and thought they would be a great way to train in the summer.
But Olson tinkered with the design, making the wheels softer and faster and putting them on an adjustable track that could be attached to hockey skates.
Soon players around the Twin Cities were skating around on his creation.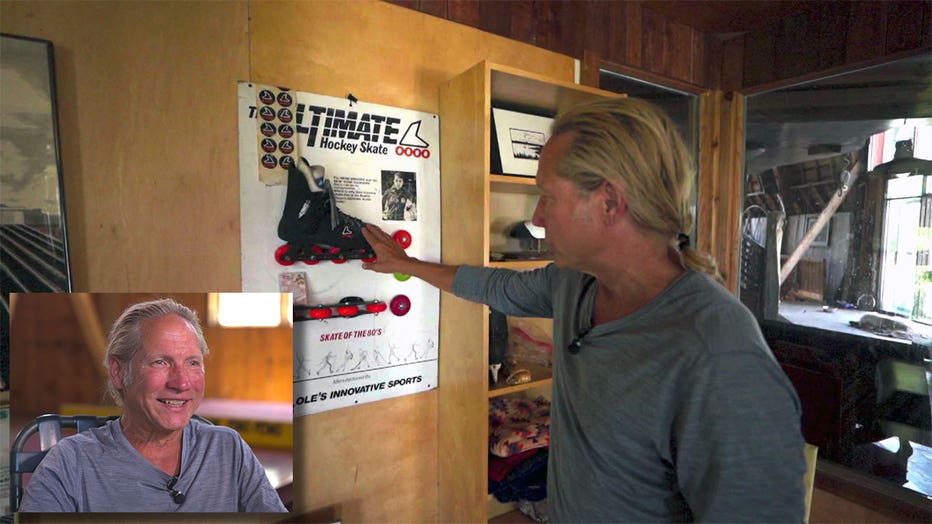 Scott Olson is the "grandfather" of roller blades. (FOX 9)
"I think just the instant gratification of experiencing ice skating on pavement was something that was hard to imagine and then you're doing it," said Olson.
Olson eventually started his own company and named it Rollerblade, a hybrid between roller skates and hockey blades.
He and his brother used to make them one at a time in their parent's basement in Bloomington.
But by the mid-80s, Olson was in danger of losing his business, so he sold it to two investors who kept the brand alive and gave him a tiny percentage.
"I didn't make a huge killing on it, but I made enough to set me up and do what I love doing," said Olson.
Within a few years, Rollerblades exploded in popularity, spawning an entire industry that by the mid-90s peaked with sales of half a billion dollars.
Olson's invention brought inline skating into the mainstream from coast to coast as a form of recreation, exercise, and a good way to get around town.
"To really see it blossom and really become a fad like in L.A. that was really cool to see. Making a trip out to L.A. and seeing everybody blading around town," said Olson.
Rollerblades were even immortalized on the silver screen in movies like The Mighty Ducks.
Even though their popularity started to wane by the early 2000s, Rollerblades never completely went out of style here in Minnesota with inline skaters turning the old Metrodome into the "Rollerdome" and U.S. Bank Stadium into a "Skadium".
But Rollerblades saw a resurgence during the pandemic, with sales jumping 300 percent, as COVID-19 protocols sent people scrambling for activities they could do while socially distanced and out in the fresh air.
"I was excited to hear that. It's always scratching your head, Why did it even drop off when it's such a great fitness device," said Olson.
Olson says he's proud of the legacy his invention has left behind both for himself and the State of Hockey.
"Everybody thinks they came from L.A. but it really started right here in Minneapolis and Bloomington. So to have that product come out of Minnesota is really a big feather in everybody's cap," said Olson.