Low-flying planes spraying for gypsy moths in Minneapolis Tuesday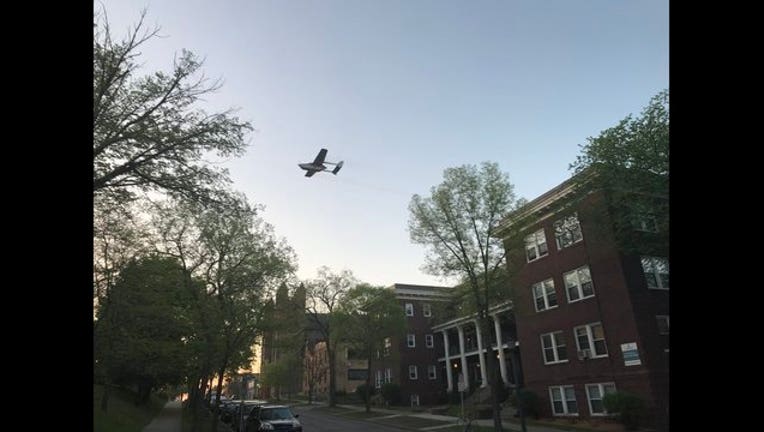 article
MINNEAPOLIS (KMSP) - People in parts of Minneapolis woke up to the sounds of low flying planes Tuesday morning as the Minnesota Department of Agriculture starts round two of a war against the gypsy moth infestation. 
Tuesday is the second of three treatments of 310 acres in the Lowry Hill and Kenwood neighborhoods. 
A homeowner discovered the gypsy moths in the Lowry Hill neighborhood last summer. MDA officials are calling it the worst gypsy moth infestation they have seen. 
The neighborhood was put under a quarantine, which meant residents could not take tree branches or debris out of the area. MDA was hoping first to contain the infestation, now they are hoping to eradicate it.
Gypsy moths can reproduce rapidly, defoliating trees to the point where they become stressed and die. 
The first treatment was last Wednesday. Residents had been notified, but that did not mean it did not cause some concern when the low-flying planes were spotted. 
The planes are spraying what MDA says is a naturally occurring bacteria over the area that kills the moths and is only toxic to caterpillars. There is no known health risk to humans, but anyone with severe food allergies or weakened immune systems may wish to stay inside for a few hours. 
Gypsy moths were introduced to the U.S. in the late 1800s. They slowly spread from the east coast to the west and are now in New York, Pennsylvania, Ohio, and Wisconsin and in the two most northeast counties in Minnesota. They are being managed up north and in Minneapolis, the MDA is hoping to get rid of them completely before they can do damage or spread.