Little girl with alopecia celebrates 'Crazy Hair Day' in a beautiful way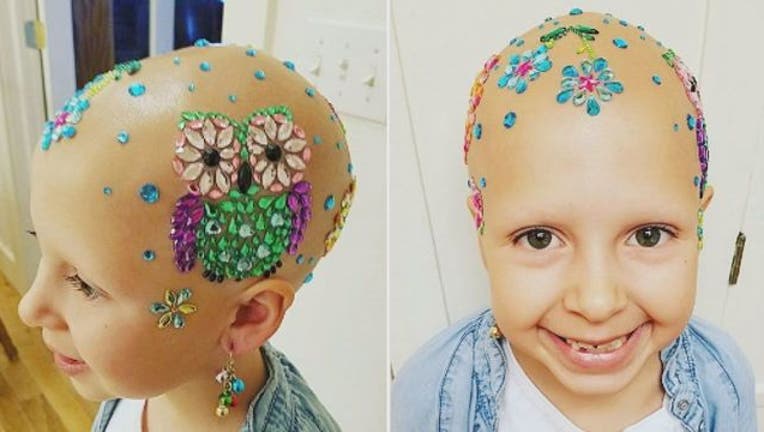 article
SALEM, Utah - A 7-year-old girl who lost her hair from Alopecia celebrated "Crazy Hair Day" at school-- with bling!
In January, Gianessa Wride of Salem, Utah, began to lose her long brown locks. Her mother, Danielle Wride, first noticed a bald spot on the right side of her head.
Extremely concerned, she scheduled an appointment with dermatologists. But before they could see a doctor, almost all of Gianessa's hair had fallen out. Danielle ended up cutting off the remaining bits.
So when Crazy Hair Day-- now called Crazy Head Day-- came around at school, Gianessa's mom came up with a creative way to help her daughter celebrate.
Gianessa doesn't wear wigs because they make her head itch. She usually rocks beanies, hats, and scarves. But for the spirit day, her mom had something better in mind. Danielle got fancy with jewel stickers and decorated her head with pretty floral and owl designs. The bling bling was a major hit with her classmates.
Danielle tells FOX 5 DC Gianessa even won the award for best look in her class-- which we think was well deserved! 
Gianessa suffers from an autoimmune disease called Alopecia areata. The disorder causes the immune system to attack hair follicles, which results in hair loss.
Danielle told FOX 5 they stopped seeing the dermatologist, mainly because there are not many treatment options and the side effects aren't something they want to subject their 7-year-old to.
"When she gets older, she's welcome to go down that road, and we will support her just like we are now," her mom said.
When Gianessa was first diagnosed, she didn't fully understand that all her hair would fall out, but her supportive parents helped her see that she is just like any other kid.
"Some people have blonde hair or black hair, some have curly hair, straight hair, short hair, long hair. She just doesn't have any hair. And she is still fabulous!" her mom said. 
Bald is beautiful! We admire Gianessa for rocking her confidence so beautifully.
For other parents or anyone going through a situation that makes you feel like you're less of yourself, Danielle says to keep going!
"You are still amazing. Whatever you want to do put all of your effort into it, have a positive attitude, and you can obtain whatever goal you wish. Don't let it hold you back. Just put your best self forward and everything else will fall into place."